Appreciations
View(s):

Amma worked for us from dawn to dusk, and always with a smile

LEELA OBEYESEKERE

On October 9 this year, I lost the most cheerful and lovable lady I have ever come across in my life. My dearest Mother, Leela Obeyesekere, was a very kind and caring lady, loved and respected by all her relatives and friends. She taught us kindness, love and compassion, honesty and generosity. She was a combination of all these golden qualities.

Amma, we inherited your kind human touch and eternal courage to face life. You gave us a beautiful childhood. We grew up in a peaceful environment. Although you were a devout Buddhist, you taught us to respect all religions, and their beliefs and culture.

I remember how, when we were small, you helped a family of six children who were struggling against grinding poverty. How many times have you slept on an empty stomach after offering your portion of food to that family. Amma, you taught us the true meaning of life. I have no words to express our gratitude to you.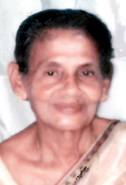 We shall be forever indebted to you, dear Mother, for the values you inculcated in us. You always tried to add valuable human qualities to our lives. We help the less fortunate, as you did throughout your life.
You went out of your way to help people, regardless of caste, creed, race or any other differences. When someone was in need of help, you were the first to do the needful. Although you were weak towards the end, in your mind you still wanted to do the best, but your body could not oblige. You were very sad then, but Amma, like you, we too will soon be victims of old age.
Your immense love for us was wonderful. You worked from dawn to dusk to attend to our daily needs, but you did so with a smile. Your love for our father was amazingly wonderful. You and Father were the best of friends. You never had disagreements, arguments, nor did you hurt each other. You were obedient, devoted and caring and you set an example to us all.
Dear Amma, we were fortunate to see you and Father growing old together peacefully and happily leading a respectable and exemplary life, helping not only us but also all those around you.
Your 50th wedding anniversary with Father was the most awaited event in our family. With the passing away of Father in 2004, your lifestyle completely changed. You were not cheerful and you led a quiet life. You were bruised with grief. But Amma, you were lucky because my two sisters looked after and pampered you, and my brother and I visited you often and cared for you and all the grandchildren took care of you. All your near and dear relatives and friends visited you and you were never left alone.
You radiated love and kindness to all the children. When they visited, you offered them their favourite delicacies. You were a connoisseur in the art of cooking.
We miss you, Amma, we miss you terribly. We will maintain the family bond and the four of us will care for each other and dwell together in unity.
We miss your sweet and innocent smile, loving touch and kind words. Thank you very much, Darling Amma, for your precious love and all your sacrifices.
Dear Amma, may you once more be born as our precious mother in this Voyage of Sansara, and may you be able to shorten this journey, and at the end of this painful journey may you attain the Supreme Bliss of Nirvana which you truly deserve!
Renuka Gunasekera
Our friendship went beyond political divides
M.L.M. Aboosally
I knew Mr. Aboosally for a long time. We had a warm and cordial friendship for many years in spite of being from different political parties and contesting from different sides of the political forum for many decades. I admired him for his honest and humble approach to life.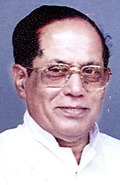 I remember that he visited my home before my daughter's wedding and offered to and provided all the flowers for the wedding from his estate. It was a sign of his generosity and his willingness to help his family and friends.
I was also associated with Mr. Aboosally through Dafthar Jailany, a jungle shrine in Kuragala, Balangoda. I was impressed by Mr. Aboosally's dedication to conserve and continue the tradition associated with this site. Mr. Aboosally asked me to write a foreword to his book on Dafthar Jailany in 2003, which I was happy to do.
We were both from Sinhala electorates which chose to place their faith in a Muslim representative and I feel we both stood for the strong traditions of tolerance and magnanimity which is prevalent in Sri Lanka and among all her people.
His death was a loss to all communities in our island home.
May the blessinghs of Almighty Allah be bestowed on him.
S. Alavi Mowlana, Governor, Western Province
Forest Hills' lady with a golden heart
MATILDA STELLA PIERIS SENEVIRATNE
Matilda Stella Pieris Seneviratne (nee Gunasekera) passed away 20 years ago on August 16, 1992, at the age of 83, leaving a great void in the hearts of all her loved ones. Born on December 7, 1908, she was the youngest daughter of Don James Gunasekera of Mattumagala and Cornelia Weerasinghe of Waragoda, Kelaniya. On January 31, 1936, she married Durand Paul Pieris Seneviratne, who was with the Ceylon Government Railway at the time. They were blessed with five children, two sons and three daughters. The fourth child, our darling sister Preeni Lalitha (Polly), met with an untimely death at the age of 10, bringing great mental pain to Ammi, Thaaththi and all of us. We were a close family.
Both my parents were great entertainers. Ours was an open house to all. Every Sunday was a day of entertainment, with friends and relations gathering to have fun. Sea baths at the Uswetakeiyawa beach, cricket and badminton matches and bridge parties were a few items on Thaaththi's agenda. And Ammi, you were always ready with the goodies to feed the crowd.
Our front garden was kept free for sports activities. We never had to go out to play because all sports were available at home. Thaaththi's friends and their children came to "Forest Hills" to play. Cricket matches were frequent. The naughtiest of the players (hot-tempered) were my Chuti Aiya, Gamini (Bunny) and Anton Cramer. Loku Aiya, Upali, was a bully, and Ashley Wickrema was the peacemaker. Ammi, you were appointed umpire by Thaaththi. What a task for you, Ammi. But you handled them beautifully and in the end fed them all to their heart's content. What a lovely, caring mother you were to everyone.
My father enjoyed a game of badminton with my mother. She in her normal attire, the saree, and Father in sports shorts. He used to thrash the shuttle cock all around the court to make Mother run screaming with fatigue. Father enjoyed it saying she needed exercise. What a wonderful couple they were.
Thaaththi named our home in Kandana, Forest Hills, after the famous West Side Tennis Club and venue of the US Open in New York. I remember Thaaththi coming home jubilant after defeating the reigning tennis champion F. C. de Saram. Thereafter, he led the Government Services Tennis team of Ceylon to victory. Ammi, you were the driving force in all Thaaththi's achievements.
Ammi's sewing talents were incomparable. I remember vividly how Thaaththi brought the best of dainty dress material for Ammi to make us frocks. The chief designer at the famous textile emporium F. X. Perera's was a good friend of Thaaththi's. He would drop by with samples of his latest dress materials, like robia voile.
Although Ammi and Thaaththi were almost the same height, Thaaththi insisted she wore a heel,. He said it was for posture. She looked majestic in the sarees tastefully selected by Thaththi.
Domestics were in plenty at the time. Maggie was the chief of them for long years. Ammi, you looked after them so tenderly.
Ammi, you had the joy of seeing all eight of your grand-children, five boys and three girls, who loved you so much. I remember how you blessed Arjuna, the oldest, when he came to tell you he was getting married. Thaaththi too doted on him.
Though I was no scholar, Thaaththi helped me prepare for the SSC Examination, and I got a distinction in English and went on to become a teacher.
Dear Ammi and Thaththi, your two sons and youngest daughter have brought both of you much credit by following in your footsteps. Your sons Upali and Gamini went on to serve the Police Department and the Ceylon Civil Service respectively with much distinction, while your daughter Duranthie has done much to mould children into fine young men and women.
Ammi and Thaaththi had to undergo great pain many a time. Once it was the major floods that devastated the North Central Province. My brother Upali, a daredevil police officer, was stationed in Anuradhapura and the most alarming piece of news reached us saying "I am still among the living". Thaaththi was prepared to sacrifice anything to save him. It was his good friend Uncle Ahmed who came forward.
He in his brand new Mercedes took Thaaththi with all the possible food items in search of his son. After rescuing several drowning people, my brother had been found perched on a tree through exhaustion awaiting help.
Dearest Ammi and Thaththi, I could write volumes about the great and sad events at Forest Hills. Your memory stands tall through them all.
What we owe you is enormous. I pray on behalf of all your loved ones that your journey in Samsara be a short one, with all the merit you gained the way you lived your life.
May you both attain the Eternal Bliss of Nirvana.
Rukmani (Kitty) Raddalgoda
Six years and thinking of Dada every day
BRYAN PAUL SENANAYAKE 
Darling Dada, when I stop to think and take stock, I am amazed that I could have lived six long years without you. You would have been 80 years if you were in this world, and I am sure you would have wanted a big party to celebrate.
I look at your picture every day as I leave the house and I thank God for your presence in my life, especially when times are difficult. Thank you for not leaving my side. I am comforted by the thought that you are with Jesus and Mother Mary, and are blissful in their care.
I love you so very much and miss you terribly.
With all my love Your daughter
Shima
Follow @timesonlinelk
comments powered by

Disqus