Handunetti wanted to become a farmer
View(s):

Parliamentarians from different political parties — most of them old boys of Ananda College — were at a musical show held at Kularatne Hall of the College premises.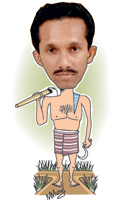 The compere asked some of the MPs whom they wanted to be during their childhood.
Arjuna Ranatunga, the cricketer turned politician said that he wanted to be a sportsman and he was able to make it.
Minister Dullas Alahapperuma said he wanted to be a lawyer but ended up becoming a journalist.
Though two JVPers, former MP Bimal Ratnayake and MP Sunil Handunetti, were there, the compere did not ask them questions.
It fell on JVP MP Anura Kumara Dissanayake to ask his colleague Handunetti after the event what was his wish during childhood. "Mata one une appachchi wage wenna. E kiyanne goviyek wenna (I wanted to be like my father. I mean I wanted to be a farmer)," Handunetti said.
CCTV cameras all around Sirikotha
The toughest security measures were in place when the United National Party (UNP) held its national convention on December 1.
The areas around Siri Kotha, the UNP headquarters, were divided into 18 different sectors. A retired senior military officer was in charge of 25 closed circuit surveillance cameras placed in these sectors.
This is in addition to some 500 police officers, including Special Task Force (STF) personnel or the commando equivalent of the Police, being deployed.
Internal UPFA battle erupts again in Kolonnawa
The political battles of UPFA stalwarts and their supporters in Kolonnawa continue. Last week, supporters of Hirunika Premachandra, daughter of slain UPFA area leader Bharatha Lakshman Premachandra, staged a demonstration demanding justice.
They wanted the culprits of the murder to be brought to justice. Supporters later complained that a group had thrown human waste at the residence of Hirunika.
On the same evening, supporters of Duminda Silva, still said to be undergoing treatment at a Singapore hospital, held a bodhi pooja to mark his birthday. There were cutouts and posters for the event. Silva's supporters claimed that some of the cutouts were damaged by rival groups.
It was only last week that Parliament approved further leave for Silva who suffered injuries a year ago in a gun battle where Premachandra died.
Range of stamps at 12.12 p.m. on 12.12.12
The figure 12 seems to be auspicious for the Postal Department. It will issue 16 different stamps on 12.12.12 at 12.12 p.m. at a ceremony in Anuradhapura. The denominations will range from fifty cents to Rs. 75.
Soldiers to guard outer areas of prisons
Prison officers are to carry only repeater shot guns instead of assault rifles, according to new security procedures now being worked out.
The Ministry of Defence is likely to deploy soldiers to protect the outer areas of prisons. It is also likely that police help will be sought to escort prisoners from prisons to courts.
These measures are under consideration after last month's prison riot that left 27 inmates dead.
Mervyn's shot-gun visit to wedding
It was perhaps one of the shortest visits to a wedding by Public Relations Minister Mervyn Silva.
At a leading hotel in Wattala, the daughter of an old guard of the Sri Lanka Freedom Party (SLFP), was being given in marriage. Invitees described the event as one that was attended by "parana athey kalliya" (old hand symbol group).
Silva walked through the main door to see former President Chandrika Bandaranaike Kumaratunga chatting with her long-time confidant Mangala Samaraweera, now head of communications of the UNP. He turned his head in the opposite direction to see more old SLFP hands.
The Minister walked straight up to his hosts, shook their hands and said his farewell. He was off as hurriedly as he came in.
They tried to finish it on Friday
Government's legal advisers took a close look at Standing Orders to determine whether the impeachment resolution against Chief Justice Shirani Bandaranayake could be carried through Parliament on Friday.
It was found that such a move was not possible.
Hence, they felt there was no choice but to wait a month after the Speaker tells the House about the findings. The Speaker was expected to do so yesterday.
New Lordships in Parliament
Who says that Sri Lankan Parliamentarians have lost their sense of humour? There was plenty of it in the lobbies of Parliament.
When Government MPs saw their colleagues who are members of the Parliamentary Select Committee (PSC) probing Chief Justice Shirani Bandaranayake, they would bow and move aside. Some would say "Ayubowan nadukara hamudurwanee" (or the equivalent of Your Lordship).
When Economic Development Minister Basil Rajapaksa walked into the canteen, he saw PSC Chairman Minister Anura Yapa Abeywardena, Ministers Susil Premajayantha and Dilan Perera at lunch.
He said he would move to another table since the learned judges were together in one.
Long speech by Minister; no lunch for monks
The National Ceremony to hand over school uniforms to students was held at the Polonnaruwa Royal College last Tuesday.  The event was presided over by Education Minister Bandula Gunwardena and Health Minister Maithripala Sirisena.
Minister Gunwardena gave a speech after a few others. He waxed eloquent for some 45 minutes. When he finished, it was around 12.20 p.m.
Then school uniforms were handed over. The unexpected delay resulted in members of the Buddhist clergy missing their daney (or afternoon meal). Religious rites require that they partake of their meals before noon.
Unfortunately no arrangements were made by the organisers to serve daney for them at the event.
Petroleum minister pumps petrol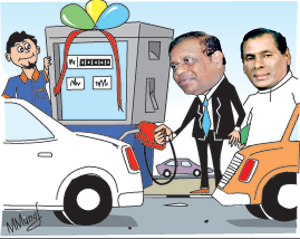 It was a novel way of opening a Ratnapura fuel station owned by Dixon Dela Bandara, Sri Lanka's High Commissioner to the Maldives.
He invited two guests of honour – Petroleum Resources Minister Susil Premajayantha and Public Administration Minister W.D.J. Seneviratne.
Both had to pump petrol to vehicles that arrived at the auspicious moment.
President changes Cabinet meeting day
President Mahinda Rajapaksa made an important announcement when ministers gathered for their weekly Cabinet meeting on Wednesday evening.
He said their weekly meetings beginning January would be held on Thursday mornings.
He noted that some ministers did not turn up for the meetings on Wednesday evenings though they had told their families they were attending Cabinet meetings.
Hence, he directed that ministers must remain in their ministries to meet the public on Wednesdays and be present on Thursday mornings for their weekly meetings.
It was the late President Ranasinghe Premadasa who shifted Cabinet meetings from Wednesday mornings to evenings. The move was to avoid leaks to the media of what was being discussed.
Follow @timesonlinelk
comments powered by

Disqus