Seeing 'Christmas past' in a strange new light
View(s):

Say "Christmas!" to the average Sri Lankan and they might immediately compose a picture at the top right hand side of their mind of what it all means.

Happy holidays. Parties. A near-endless round of fun and games. An irresistible urge to get and take and spend. That definite nip in the air. Traffic to boost your blood pressure into the stratosphere.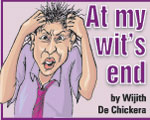 Visiting families and friends in-between shopping till you drop or your credit limit cries out for mercy. Malls crammed with indefatigable bargain hunters and store floors dotted with some dreary Santas looking for a quiet place to wilt and die. Festive cheer that runs mostly to the food, drink, and entertainment departments. Pubs and clubs alive and well. Sundry dos in and around the fashionable parts of the city. Corybantic suppers upon lunches to turn the sturdiest constitutions to a quivering jelly.
Wine, women, and song is going a bit too far, perhaps? But that "eat, drink, and be merry" ethos conjures up many ghosts of island Christmases past! It would be a pretty pleasing picture – if only you could shut out the desperate look of those left outside the frame of the spirit of the season (for a host of reasons: religious as well as cultural, social, or economic).
But once upon a time, in a land far far away, where it all began, the landscape was quite different. (This is a pre-Christmas attempt to get a glimpse of the story behind that story.)
The Good News (and not notices of grand sales) was announced to the most unlikely people. A priest doing his turn of duty. A young woman going about her business with not a care in the world. Some star-gazers in a far country. Shepherds in a field. An elderly couple waiting in hope…
Today, the very word priest conjures up a portly prelate paying lip service to his political masters (that is his turn of duty) – or those stiff-necked castrati who have made a deity in their own image and lost their gods down in their places of worship, amidst an alien people clutching their idols. A young woman cannot go about her business for worrying about perverts and pickpockets in workplaces and crowded public transport – and if she works abroad, in a factory or out on a plantation (as many of our women do), she is unlikely to be at peace to ponder the miracles of virgin birth or creation of a new world order. Star-gazers in our society are looked down on if they are artistic types, or looked up to if they augur nothing but good news for the powers that be whom they serve with their auspicious sycophancy. Farmers and cattle herders, the much maligned and most oppressed segment of our agrarian economy – together with fishermen – are scorned and treated as badly now as shepherds were then (the soldier has replaced them as the hero of our polity). Old people are ignored and marginalised in our rapidly ageing society – youth and vitality are the currency of our brave new tomorrow.
There was no princely delegation to the king's court when the good news was announced. In fact, the royal heralds took their message as far away as it was possible to get from the stifling atmosphere of the worldly throne room. And when some wise men from the east paid a courtesy call on the palace, to enquire about the challenge to the incumbent dominion, it caused no little consternation in the heart of the principality.
That child on whose infant breath the winds of change were sighing through the world was no baby with a silver spoon in its mouth, a spoilt brat of selfish tyrannical rulers. He was poor, unknown, exposed to the elements, at the mercy of all – more like the begging street urchins you see outside the shop window, with his vagrant parents akin to the vagabonds who so irritate us as we rush from our plush hotel or swanky restaurant or upmarket department store to our luxury cars and designer homes and safety, security, and the self-centred pursuit of what are ultimately the empty pleasures of life.
Thus the big picture of Christmas is not at all what the average Sri Lankan thinks, especially if you look at the bottom left corner of your mind map – where both truth and beauty among other meaningful matters have been relegated in our day and time…
Let's look more closely at these images next week, shall we?
Follow @timesonlinelk
comments powered by

Disqus