Penchant for people
By Shalomi Daniel
Combining traditional oil paintings and modern drawings Shaanea holds her maiden exhibition inspired by
encounters on her travels abroad
View(s):
As a little girl Shaanea was not allowed to touch what was to her a veritable treasure trove – her mother's collection of canvases, expensive oil paints and brushes. Now Shaanea Amantha Mendis D'Silva spends many a blissful hour each day with brush and canvas, painting to her heart's content, portraits of people she has met on her travels from India to Ghana.
Shaanea also enjoys pen and ink drawing, creating patterns and designs with attention to intricate detail. It is such a mix of traditional oil paintings and modern drawings, around 40 works in all, that she will display at her very first solo exhibition this month at the Harold Peiris Gallery of the Lionel Wendt from December 14-16 under the theme 'Something old, something new'.
"Galleries usually prefer to display art work of one particular genre. However, as it is my first exhibition, I wanted to have a combination of traditional and modern art," explains Shaanea.
It had been a long cherished dream to have an exhibition of her work but she had not felt quite ready for it in the past. After nearly two years of loving labour, she feels the time is right.
Growing up, drawing was a favourite hobby for Shaanea. Her mother, Oranea, a Chartered Accountant by profession, was also an art enthusiast and Shaanea grew up in a home where portraits of famous personalities like J.F. Kennedy and Geraldine Chaplin painted by Oranea adorned the walls. Shaanea and her brother would often tag along with their mother when she attended classes at Stanley Abeysinghe's home and studio.
An old girl of Ladies' College, Shaanea has happy memories of school art lessons. She also had lessons at Cora Abraham's Melbourne Art School and when she chose art as a subject for her London A'Level exam, came under the guidance of art teacher Shyamala Pinto Jayawardena.
It was her mother who introduced her to Nadine David to further her interest in portrait painting and Nadine was instrumental in not only developing her portrait painting, but also in furthering her studies in art. At Nadine's urging Shaanea applied to Lasalle College of the Arts in Singapore where she studied for a Bachelor of Arts Honours degree.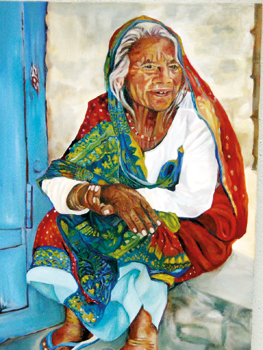 The Lasalle experience was an eye opener for Shaanea, not only in terms of getting used to a new country, culture and university life, but in relation to art too.
Encouraged to push her boundaries and not confine herself to one particular genre Shaanea started experimenting with rust stains in canvas and relief sculptures. There were times though when she says she felt discouraged, after receiving mixed feedback of her work.
"However, the harsh criticism got me thinking, kept me on my toes and I could not sit back and be complacent," says Shaanea.
It was this training that enabled Shaanea to accept that art is ever evolving and this is reflected in her first exhibition where she seeks to reconcile the traditional with the modern.
"I never thought I'll make art my career!" says Shaanea with a smile, adding that though she always knew she wanted to do 'something related to art' it was more graphic designing she had in mind. This ambition however was revamped by the end of her foundation year at Lasalle.
"During our foundation year we were taught a wide range of subjects from fashion to multimedia and it was then that I decided to make art my career," she says. Misgivings about the risks notwithstanding, she has decided to take the plunge and is happy to call herself 'a full time artist' now.
These days, Shaanea is often at sea accompanying her husband Kevin D'Silva, a marine engineer. Visiting new and interesting places, she also finds inspiration for her art. "I photograph people I meet in different places and then go back and paint their portraits," she explains.
Shaanea hopes that she will be able to exhibit annually, even biannually with an exhibition in Mumbai where she and Kevin live when they are on shore.
Shaanea's website www.shaanea.com will be launched to coincide with the exhibition. She can also be followed on Facebook and Twitter.
'Something Old, Something New' will be on at the Harold Pieris Gallery, Lionsel Wendt, from December 14 -16.
Follow @timesonlinelk
comments powered by

Disqus