Going green with the cuppa
By Tharooshie Mahahewage, Pix by Nilan Maligaspe
Melfort and Sanquhar produce specialty health teas

View(s):
The health benefits of green tea are much talked about in these health-conscious days. Tea is known to contain a high volume of flavonoids — plant-derived compounds that are antioxidants. The anti-oxidant known as polyphenols prevents cancer and fights against ageing. Green tea is also the best food source of a group called catechins that have disease-fighting properties. Drinking three-four cups of green tea a day can burn up as many as 70 calories.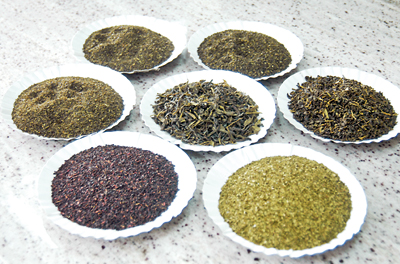 CEO of Melfort Green Teas (Pvt) Ltd. and consultant for Pussellawa Plantations Ltd., Tiran Peiris who began his career as a tea taster, rising to become a planter is now committed to popularising green tea. Melfort and Sanquhar estates, both major producers of green tea under his guidance have received many international awards.
Mr. Peiris was awarded the Sri Lankan entrepreneur of the year in 2007(Central Province).
Melfort was selected as the 'overall winner' in the Green tea category at the specialty tea contest held in USA at the 'World Tea Expo' in 2008 and won the 'Gold award' in Russia at the Ceylon specialty estate tea of the year contest in 2011.
Sanquhar Sencha Fannings, one of their teas was one of the finalists at the 'World Tea Expo' in USA in 2008 and Sanquhar Green Tea won the merit award in Russia at the Ceylon specialty estate tea of the year contest in 2011.
Green tea was introduced to Sri Lanka in the '70's by a Taiwanese joint venture in Pelmadulla but this venture proved unsuccessful. Later Forbes and Walker also a joint venture introduced green tea for commercial production in the '80s. "I started a career of tea management with 'Finlays' way back in 1990 when I was a tea taster and then a planter. At that time I hadn't even tasted a green tea sample. It was a challenge. I had to lay the foundation for a mother factory, and start manufacturing," Mr. Peiris recalls.
He was sent for training for 11 years to Japan on Japanese tea, China for Chinese tea, Korea for Korean tea and Taiwan for Oolong tea. He has also undertaken study tours to learn about green tea in  Indonesia, Vietnam and India. He is also a member of the World Green Tea Association, Shizuoka, Japan.
At present his company is the market leaders in the manufacture of green tea securing about 40% of the Sri Lankan market. "We are also the main suppliers to Ceylonta, Finlays and Dilmah. We do not export and we are bulk suppliers of green tea to all tea companies in Sri Lanka. They buy our bulk tea, add flavour, pack it in different forms such as tea cartons, tea bags and tea sticks and export it. We produce and market approximately 1,000 metric tons per annum and are perhaps the largest producer of green tea in the country," he says.
Melfort's two factories are 'Melfort' and 'Sanquhar'. "At Melfort we produce pan-fired green tea – all Chinese types such as 'Gun powder Special', 'Gun powder Extra-special', 'Gun powder 1', 'Chunmee tea' and 'Special Hyson' to name a few. At Sanquhar we do steamed green tea which are Japanese types such as 'Sencha OPA', 'Sencha Fannings', 'Sencha Hyson', 'Tencha', 'Red Tea', 'White Tea Fannings', etc.," Mr. Peiris elaborates.
Melfort is the only company in Sri Lanka producing Chinese green tea, Japanese green tea, Oolong tea, Red tea, and White tea with Ceylon character. Through research and development they have transformed Melfort into a dual type of manufacture – pan fired and steam. "We are investigating bio fuel extraction and also the extraction of Catechins and Theanine in green tea with the assistance of the Industrial Technological Institute," Mr. Peiris adds.
"Importing green tea to Sri Lanka is a good thing as our green tea volume is low. But, we need to ensure that there's at least 25% of Sri Lankan green tea among internationally blended tea in the market.  This is to protect, save and preserve the green tea manufacturer in Sri Lanka and this will also help to preserve the Ceylonese character in our tea.
"There's a large community who depend on this industry. We do not have enough subsidies and this can be a hindrance trying to promote the industry to future generations. We need legislation to ensure a fixed volume of local green tea in the market as this is the best time considering the market situation internationally to promote ourselves and establish Ceylon Green Tea in the market," Mr. Peiris adds.
Getting back to the health benefits, green tea is linked to a reduced risk for cancer; studies in China showing that the more green tea that participants drank, the less the risk of developing stomach cancer, esophageal cancer, prostate cancer, pancreatic cancer, and colorectal cancer. It is also beneficial to ward off skin, breast, lung, colon and bladder cancer. The high content of fluoride also helps to preserve your bone density. It also relieves allergies, prevents liver failure, high blood pressure, food poisoning, colds and flu, reduces asthma, improves immunity, helps in bad breath problems and prevents tooth decay.
Theanine which is a kind of an amino acid is present only in green tea and it relieves stress and anxiety and is also a good memory booster.
Follow @timesonlinelk
comments powered by

Disqus