Appreciations
View(s):

It was an honour to have known such a couple

Cyril Herath and Ranee Herath

Ranee Herath passed away on August 6, only a few weeks before the first death anniversary of her beloved husband, Deshamanya Cyril Herath who died on September 8, 2011. Had Mr. Herath lived, this loving couple would have celebrated their golden wedding anniversary on January 17. I know how much Mr. and Mrs. Herath,their children, relatives and friends were looking forward to this rare event. But it was not to be.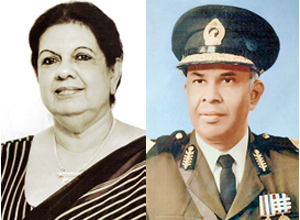 I had the honour and good fortune of knowing both Mr. Cyril Herath and Mrs. Herath for15 years. My relationship with them started in 1996 when I was appointed as the General Manager of National Savings Bank where Mr. Herath was Chairman. For me, this was the beginning of a memorable and fulfilling relationship. After I left NSB in 2001, my relationship with the Herath family developed into an intimate one.
There is no doubt that Mr. Herath's most looked forward to annual event was the Ramanathan Hall get-together to which he always invited me. For many years he played an active role in organising it, and making sure everything went off smoothly.
One of my cherished moments in life was a serendipitous event in Surrey, England where I was living at the time. It was 2006.Mr. and Mrs. Herath were holidaying in England, and by a strange coincidence Eastman and his wife also happened to be in England at the time. Naturally, we decided to meet – the triad associated with the transformation of NSB was meeting after a long time – in a foreign country and without prior planning. It turned out to be a wonderful evening, and I can still visualise the expressions on the faces of Mr. and Mrs. Herath.
As a compliment and a tribute to Mr. Herath I must say that it is something extremely unusual in the real world for subordinate officers to become so close to the boss and his family. But Mr. Herath was different. I will never forget how he always endearingly addressed me as Esbee. I recall how he hosted a dinner on the eve of my departure to England in 2006. The presence of his children and their families on that occasion showed to what extent we had become close.
During his prolonged illness I was in England and whenever possible we talked to each other on Skype. Although he was sick and in some discomfort, he wanted to know how I was getting on and insisted that I should speak to him regularly.
I was happy in a way that I could return to the island and meet Mr. Herath a few times before his death. When I met him at his sick bed immediately after returning from England, the first thing he did was to tell me in a faint voice to hold his hand, which I did. This made me reflect on the quirks of human life.
Dear Sir, I will never forget the confidence and faith you reposed in me by appointing me as the General Manager of NSB, and after I relinquished the post, appointing me to the Board. And three years later you insisted that I must accept the position of Acting Chairman and Executive Director.
There is no one who has inspired and changed my life to the extent you did. I will be ever grateful to you for your affection, all what you did for me, and your inspiration.I will always remember you as a personification of dignity, humility, and uprightness.
Mrs. Herath was his shadow and beacon. Everyone know the extent of the sacrifices she made for Mr. Herath's success and thereafter even during his prolonged sickness, she faced life with exemplary courage and fortitude.
Everyone who knew Mrs. Herath will never forget her graciousness and benevolence. Once, when she knew that my wife was out of the island, she invited me home several times despite all her commitments. When she found I was reluctant,she arranged for the meals to be sent to me. That was the concern she had for others.
She was present at all parties organised by NSB and mixed with everyone. She added colour to these parties and never failed to join the staff on the dance floor along with Mr. Herath. She was a source of strength to Mr. Herath and the embodiment of grace and exuberance.
Another facet of her life was the passion and commitment she had for social service and voluntary work. She was involved in voluntary work for over 20 years and was a Past President of the Mahila Samithi. It is amazing that despite her demanding work as a wife of a busy public officer, she found the time and energy to improve the quality of life of the marginalized women of Sri Lanka.
I would like to tell Arjuna, Sanjaya, Dishan and Priyanthika, that we share your grief and loss. Please take consolation in the fact that you are the children of a noble father and mother. Please reflect on their rare qualities and the respect they commanded in the country. Let that noble thought light the path of your life. The greatest honour you can bestow upon them is to follow in their footsteps.
Madam and Sir, it was indeed a privilege to have met you in our sojourn in 'samsara'. Your untimely demise is a great loss to us and our lives will not be the same again without your inspiration and the resonance of your laughter; we miss you so much.
May your sojourn in 'samsara' be peaceful and happy.
Esbee
The values we believe in were instilled by you
Peter Fernando
Twenty years have passed since the death of our father, Peter Fernando. He was an English Trained Teacher – one of the old school – a species that is extinct today.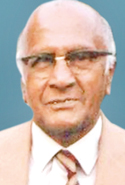 He obtained his London Matriculation in 1937 and in 1946 he passed out as a Trained Teacher, reading such varied subjects as English, Sinhalese, English Literature, General Science, History, Mathematics, Geography and Civics. His first appointment as a teacher was at St. Sebastian's College, Moratuwa, where he met our mother, Ada, who was also a teacher there; and they taught in adjoining classes. Being quite young, Mother had had trouble controlling unruly boys, and Father had gladly stepped in to help her. He taught at St. Joseph's College, Colombo, next; and finally ended up at Holy Cross College, Kalutara, where he taught for 26 years till his retirement in 1977.
His exceptional all round knowledge on a range of subjects gave him the ability to converse on any topic with the greatest of ease. He was also fluent in both English and Sinhalese. He was a strict disciplinarian and punctuality was one of his obsessions. Although strict, at the same time he was a fair and just man. There were years when his own son was a pupil in his class, and punishment was meted out even more readily and frequently to him than to the other boys. His pupils one and all respected him highly and even after all these years his old boys frequently tell us how much gratitude they owe him for his teaching, encouragement and direction in their lives.
He held the belief that if he taught properly in school, his pupils did not need extra tuition, and so he never privately tutored any boy he taught in school. His extra coaching was limited to requests from friends and relations; and for him tuition was not a means of making money, but of imparting knowledge. At home too he was a strict teacher. He coached us not only in Biology, Mathematics and Geography, but by example he showed us the way life should be lived. He stood by his principles always and taught us to be content with what we have and not live beyond our means. He taught us the values of honesty, hard work and conscientiousness.
He was not only a strict teacher, but a loving father, and we remember him seating the four of us in a row to feed us, relating the story of "The Tinder Box". We also remember his care and concern when we fell ill, and the countless sleepless nights he spent by our bedside. A shy and retiring man, he was not one to be demonstrative, but he showed his pride at the career achievements of his children.
Thathi, if you had been alive today, we are sure you would have been proud of the achievements we value – honesty, integrity, contentment and conscientiousness – values that were instilled in us by you.
The children
You gave us courage to move on
Olga Crake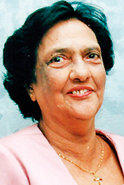 Three years have passed Mum/Nana and it seems like yesterdayThough you have gone from our sight you remain in our hearts We thank you for all the good times; when we were in trouble you were always there To guide and lead us on the correct path
Your love and courageous way of handling any situation gave us the strength to move on.
We thank thee, O Lord for giving us a wonderful and caring mother. We will love you always.
- Children, grand-children, great grandchildren and in-laws
Time may go by, but you will live on
Raja De Silva Amarasekera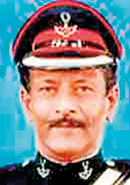 Forty eight months have gone
But our affection and love for you will never be gone
We are proud of you for the special qualities you had
Hatred, jealousy or unkind word against anyone you never had.
Memories of your handsome face, kindness, unselfishness and love
Are there in our hearts and will never fade
We miss you very much and as time goes by
We will miss you more and more.
May you attain the Supreme Bliss of Nibbana
Wife
Follow @timesonlinelk
comments powered by

Disqus