Defending champions Wattala BC put up a grand show and maintained an unbeaten run, winning six games in a row, to retain the prestigious St. Eugene's Trophy Basketball Tournament at the Depot Police court (Police Park) on Sunday.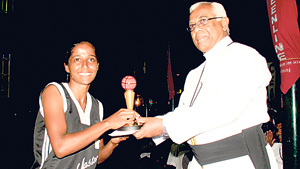 Premila Fernando of Track Masters accepts St. Eugene's Trophy from Rev. Fr. Bob Rodrigo O.M.I, Guest of Honour during the finals at the Depot Police courts. Track Masters beat Air Force in the grand final.
The final was played under lights in front of a packed house between Wattala BC and Old Bens, another unbeaten team in the competition and the Wattala lads won 32-24. Captain Naveed Halaldeen was the top scorer with ten points while Jaliya Wanigasooriya and Thilina Senaratne chipped in with eight points each. Clinton Stallone and Sanjaya Ganlath were the top scorers for the losers with nine points each.
The women's title was won by Track Masters, who beat Air Force 25-17.
The men's Plate Championship was won by Moratuwa BC while Joes BC won the Bowl Championship.
The tournament was worked off over two days at the Depot Police Courts with the participation of 20 men's teams and five women's teams. The tournament saw some high quality basketball from both men and women and the impact created by some of the new entrants in inter-club basketball tournament were noteworthy.
The event was conducted by St. Eugene's Association of Former Oblate Seminarians with the support of Colombo District Basketball Association (CDBA). Screenline Pvt. Ltd. were the main sponsors of the event.
Rev. Fr. Emmanuel Fernando, the former Rector of National Seminary was the Chief Guest.
Results:
Bowl Final: Joes beat Old Bens White 21-15
Plate Final: Moratuwa beat All Greens 25-19
Women's Final: Track Masters beat Air Force 25-17
Cup Final: Wattala Gold beat Old Bens Green32-24
Individual Awards
Best Player of the Bowl Final - Praneeth Udumalgala (Joes BC)
Best Player of the Plate Final - Gratian Silva (Moratuwa BC)
Best Player of the Women's Final - Premila Fernando (Track Masters)
Best Player of the Cup Final - Thilina Senaratne (Wattala Gold)