Cricket's Decision Review System (DRS) will become an integral part of the 2011 Word Cup that will be played in the Indian Sub-continent in February-March next year. It is understood that the DRS will be used at all ICC organized events in the future.
Sri Lanka Cricket Secretary Nishantha Ranatunga told the Sunday Times, "The ICC directors at a meeting held early this week took the decision to implement this system at the World Cup matches that will be played in India, Sri Lanka and Bangladesh."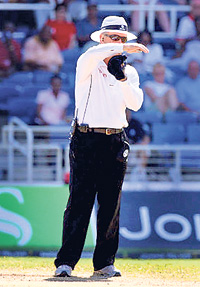 The system was initially used in Sri Lanka during the 2008 Test series against India. Sri Lanka under the then skipper Mahela Jayawardena put the system to good effect and had more successful appeals than their opponents.
However, the system was not used during the last Indian series played in Sri Lanka. Ranatunga explained, "The Indian Board was not in favour of having the DRS during the recent series in Sri Lanka because there is an ICC stipulation which requires both teams to agree on the system in place. As a result, it was not used.'
In a precursor to having the DRS at the World Cup, the Lankan authorities are looking forward to putting the system in to effect during the West Indies series which will be played following the Lankan tour of Australia.
"We are looking very favourably of having the system in place for the West Indies tour, but, the only drawback so far is the financial implication, but we feel that we could overcome that obstacle," Ranatunga said.
Meanwhile, the Australian Newspaper Age reported that the DRS will be used during the Ashes series which will get underway next month. The newspaper quoted ICC CEO Haroon Loghart as saying, "I have agreed with Cricket Australia to attend the Ashes matches between Australia and England with representatives of the Board of Control for Cricket in India (BCCI) to understand the successful application of the technology and its contribution to correct umpiring decisions."
The delegation is likely to visit Australia for the first Test in Brisbane or the second in Adelaide. A proposal for a payment structure for the system was made and under this system a central corporate sponsor would accept the cost of the technology required to implement decision reviews in all Test matches.