Dinesh De Silva, currently playing for Seeduwa Raddoluwa CC has played English County Club cricket for Derbyshire County Cricket League. The club he has represented is Wirksworth and Middleton CC. Presently he is attached to Edirisinghe Trust Investments.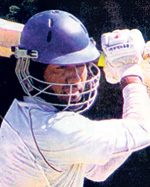 Dinesh De Silva
Whilst in England Dinesh had organized a high profile 40 Over Exhibition game to raise cash for victims of the devastating tsunami, which included Sri Lankan first class players and also other first class players from other countries. His efforts raised 1000 Pounds towards the fund.
Performance wise Dinesh has played 22 matches and has taken 90 wickets at an average of 8.4. His best bowling figures were 8 for 24 and had eight five wicket hauls and 90 wickets in the club history and had been the highest wicket taker in the Derbyshire County Cricket League 2010.
In batting Dinesh had scored 977 runs at an average of 51.2 with nine half centuries and two centuries. His highest score had been an unbeaten 110 which had helped his club to win the championship.