Since the Armed Forces stopped their legitimate fighting up in the North and the East 17 months ago, they have been turning the full force of their physical might upon each other – but this time their energies are being channelled towards the healthy, positive pursuit of competitive sports.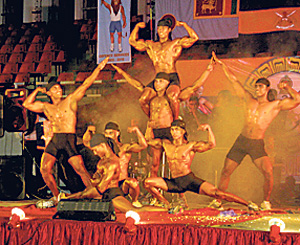 The Army bodybuilders, hosts of the championship, entertain the audience.
The Sri Lanka Defence Services Championships 2010 featured Army, Air Force and Navy athletes in a host of sports encounters, including bodybuilding and weightlifting. The bodybuilding segment, conducted recently at the Army Cantonment Gymnasium in Panagoda, saw some of the country's best-built soldiers, airmen and sailors flexing for a single title, Mr. Defence Services. All seasoned fighters, the musclemen have been flexing for titles in at least a dozen strongman contests since the muscle season began in June.
Leading the 23-strong Army team was Sisilasiri Somapala, five-time winner of the Mr. Sri Lanka title, including the 2010 crown, which he won just three weeks ago. His team included such formidable builders as R. A. A. Nuwan Sampath, Y. G. Amila, and A. HHewage. The Air Force fielded 10 of their best builders, including D. L. V. Kumudu Kumara, Udara Mendis, Ranil Sampath and Senaka Livera, while the Navy proudly showed off S. Vipularatna and W. Sanjeewa Ruwan. The winner was Army veteran builder, Sisilasiri Somapala.
The Army, hosts of the championship, had a surprise for the spectators in the form of a smartly choreographed interlude of muscle, music and dance, with members of the Army team flexing to catchy disco music. The soldiers showed rhythm, style, grace and flexibility – attributes not readily associated with the "muscle-bound" stereotype. It is understood that the Army's muscle-to-music team plans to put on a "bigger and better" show at the November 6 "Night of the Champions", the climax of this year's run of bodybuilding events. – R. Stephen Prins