CH & FC emerged the Padang Golden Jubilee Hockey 7's champions when they overcame Old Anandians on the penalty shoot out 3-2 in the final played at Padang grounds in Slave Island yesterday.
In a closely contested encounter the match deservingly at full time ended with the score at one each after the two teams exchange sides without any scoring being done in the first half.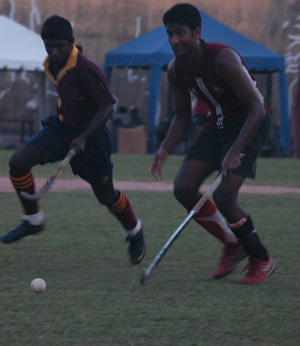 Action from the CH-Old Anandians game. Pic by Ranjith Perera
It was the Old Anandians who made the first scoring during the halfway stage of the second half before CH & FC equaled it a minute before the long whistle. The tournament organized by the Colombo Malay Cricket in conjunction with the 50 year celebration of the Padang which came into existence in 1960 attracted 15 teams affiliated to the Colombo Hockey Association with Old Thomians Matale failing to come. In the run up to the final the winners remained unbeaten right throughout the tournament with wins over Old Senanayakians (3-0), Old Nalandians (1-0) and Kotalawala Defence (3-1) before chalking up a 1-0 win over the Old Peterites in the semi final. In contrast the Old Anandians began with a defeat to host Malay Greens (0-1) but recorded an easy 4-0 win over Colts with the match against Old Thomians being not played.
The Old Anandians booked a berth to the final with a better goal average than the other teams. Their semi final encounter against BRC too ended in a nil all draw before they succeeded to the final through 1-0 penalty stroke decider.
The Padang Golden Jubilee celebrations will continue today with the conducting of the netball tournament which has attracted eight teams and the indoor games tournament which will be held concurrently.