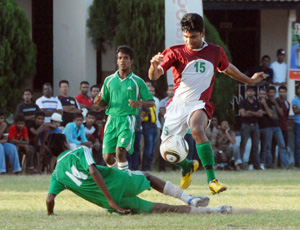 A Zahira player leaps over a challenger on his way towards the goal.Pic by Sanka Vidanagama
In a frenetically paced match that served as a thrilling spectacle of attacking and counter attacking football, Zahira College, Colombo, needed penalties to edge out Isipathana College, to win the Cup Championship of the Zahira Super Sixteen Soccer 7's at their home ground in Maradana.The finals score in the shootout read 3-2 in favour of Zahira, with Isipathana paying the price for a solitary penalty miss coming from Isuru Madushanka. The result itself did justice to Zahira, who squandered a number of chances in front of goal, including a penalty and a free kick from the edge of the box.
Zahira started the game the more enterprising of the two teams, launching into a fierce onslaught at the Greens' goal from the moment the referee blew his whistle to start proceedings. During the ten minute first half, the seven boys from Zahira strung together a series of incisive passes, carving open the flustered Isipathana defence at will but always shooting just wide. In fairness to Zaira, the Isipathana goalkeeper Prasad Devinda was a rock in front of the goal mouth, parrying away so many close range attempts, including a penalty strike, that his hands must have been numb when he sat down at the break.
During the second ten minute segment Isipathana recovered to a certain degree and were able to launch some flowing counter-attacking moves of its own. One of them included a fantastic long range strike that Zahira goalie, M. Arshad acrobatically guided over the bar. As the match edged towards extra time Zahira were presented with one last chance. Madushanka was booked for time wasting and Zahira were given a penalty at the edge of the box. However the ball harmlessly sailed past the post, sending things into extra time and finally the heart stopping penalty shootout.