It is essential for a cricketer to play table tennis. Just before a batsman takes strike it is best that he has a few shots on a TT table just to get his eye in - This bit of advice was given by Jothipala Samaraweera, former Table Tennis star and the present coach at Wesley College Colombo. Jothipala Samaraweera pioneered the pen-hold grip on a table tennis racquet and created quite a sensation that took him to world fame as a player.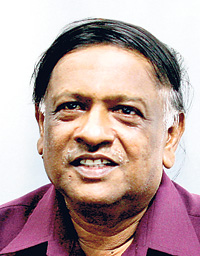 Jothipala Samaraweera – Pic by Sanka Vidanagama
"There is very little international exposure for our TT players. Also this policy of trying to please all in the case of picking officials for TT tours must stop. Such officials are only interested in the tours that they make. On their return they know another one will be picked for the next tour. The authorities concerned pick such officials and send them to the Sports Ministry for ratification. The Sports Ministry too cannot be blamed as they take suggestions from the governing body," pointed out Samaraweera during an interview with the Sunday Times.
Jothipala's words cannot be taken lightly. Where the sport is concerned he has contested at the highest level, has been an outstanding coach and at one time was rated 33rd in world rankings, a spot no other Sri Lankan can boast of. This he achieved at the 1975 World Championships in Calcutta, India. Jothi also was the Sri Lanka's national coach for 12 years from 1983.
That is not all. He has the unique record of having overtaken the World No. 1 M. Kono of Japan in the first set at the 1996 World Championships in Nigeria. Jothipala had lost the second set after a close fight but the Japanese player came into his own and overcame Jothipala in the third and final set. For his performance against Kono the World Table Tennis Federation presented him a special award.
How did it all begin? Jothipala went down memory lane. "I captained the St. John's Dematagoda cricket XI in 1970 and was the team's outstanding batsman and also topped the St. John's batting averages when I turned out for them from 1966 to 1970.
There I developed a good vision on the ball which was to help me greatly in TT." He also has a special word for former TT national champion N.H. Perera, currently coaching Royal College and D.H. De Silva, former Charity Commissioner of the Colombo Municipality who had helped him climb the ladder.
In cricket too Jothipala excelled as a batsman and in one outing this diminutive player cracked an unbeaten 278 for the Municipality against Health Department, a score which is still unsurpassed.
In 1971 Jothi represented Sri Lanka at the Asian TT Championships and in 1972 he was awarded a scholarship to China where he really picked up the game known as ping-pong then.
The years that followed saw him hitting the high spots in the sport and he went on to win the National title no less than five times, the Mixed Doubles titles for six years with Ms. Swarna Pieris and Ms. Belle Weerakoon. He has figured in 14 Mixed Doubles finals, a performance which is still to be matched.
If one was to record Jothi's successes in TT in detail it will run into reams but one thing that is sure is his performances on the sport will not be equalled for a long time to come.
Another unforgettable performance in TT is his victory over the Hussain brothers Shabbar and Shabir in a Men's Doubles Exhibition final in Peradeniya where he went around the table to get the better of them! His partner was Buddhasiri, another well known player in the 80's.
Jothi suggests instead of sending players to far away countries it is best to send players to gain experience in the Indian circuit. "As it is only competitions are held at school level. Players should be sent to India to play against Indian counterparts and they in turn should be brought to Sri Lanka. He also suggests that players in the age group 8 to 10 years should be sent to China for further TT training under experienced coaches for at least one year instead of any other country.
As a parting shot Jothi says that he is very pleased to note that Defence Secretary Gothabhaya Rajapaksa had given explicit instructions that sportsmen should be given a special place when recruitments are done to the three armed services - Army, Navy and the Air Force. "Several TT players have been absorbed into the Forces, especially the Air Force and this augurs well for the sport."