Gavin Fingleson who once turned out for the Australian Baseball team at the Olympics later became a specialized fielding coach and was in charge of the New South Wales Cricket Squad a few moons back.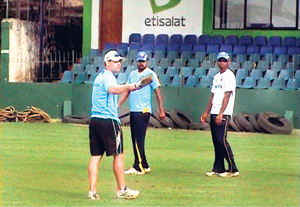 Gavin Fingleson is pictured here demonstrating modern fielding skills to the National Cricket Squad Players at SSC grounds.
Gavin was in Sri Lanka from September 22 to October 10 working with the National team who in preparation for the few tough months ahead of them which will culminate with the World Cup in February 2011.
Explaining Gavin's visit to Sri Lanka the Director of coaching SLC, Jerome Jayaratne said "Gavin Fingleson was brought down to Sri Lanka during this time as it was the time opportune as there will be no more windows opened for such a session which would be meaningful to the cricketers here onwards as they will be fully occupied with active cricket till the World Cup."
The sessions were held at the Sinhalese Sports Club Grounds and the P. Saravanamuttu Oval. According to Jayaratne the SLC also made use of Gavin's visit to give the Tier 'A' and 'B' club coaches a training session so that they too could impart with the latest methods of throwing and fielding that is prevalent in Australian top grade cricket at Present.