Former Kingswood, Kandy Sports Club, Navy and Sri Lanka Scrum Half Nilufer Ibrahim will take over Trinity College Rugby Team for a term of 2 years starting from next week. Nilufer who represented the Randles Hills school from 1993 played for the under 19 team for three years ending his school career in 1996.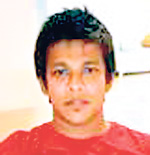 Nilufer Ibrahim
After leaving school Nilufer played for the champion Kandy SC for 10 long years (1997-2008). He was an automatic choice for the national team from 1998 onwards. His maiden tour was to Australia playing against the Northern Territory outfit.
He started his coaching career in 2007 for Kandy SC where he coached the sevens team for 2 years winning the championship on both years. He started his school rugby coaching in the same year in 2007 with the Rajans outfit making them the "B" Division champions. In 2008 he moved to coach his alma-mater. He produced champion side in the League in the initial year and Kingswood ended as runner-up on two occasions. He will start his journey at Trinity next week as the Head Coach.
His deputy will be the former Trinitian and Sri Lanka sevens and XV player Dilip Selvam. Former Trinitian Sean Wijesinghe will look after the physical training side of the side. Trinity will be led by Murad Ramzeen in 2011.