The main opposition United National Party is no simple political party but a way of life for generations of Sri Lankan citizens, and also a seat of learning, said UNP and Opposition Leader Ranil Wickremesinghe.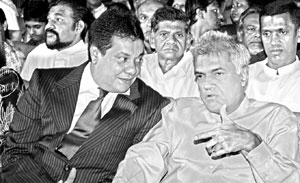 UNP Colombo North organiser Lilantha Perera discussing a point with Opposition Leader Ranil Wickremesinghe at the function to mark the former's 25 years in politics. Pic by Berty Mendis
Mr. Wickremesinghe was speaking at a ceremony held to felicitate those who had helped UNP Colombo North Organiser Lilantha Perera in his 25-year-long political career.The Opposition Leader said the country would not have progressed to the degree it had without the help of the UNP, and that it was only the UNP that could put the country back on its feet.
"Today the UNP is the country's main political party," he said. "Our attention is now focused on taking it even further. Both Lilantha and I joined the UNP when we were 20 years old. People ask me if I had my education at the university or the law college, but I must say that I learned a lot from the UNP. What we couldn't learn at university, we learned from our party."
Petroleum and Petroleum Resources Development Minister A. H. M. Fowzie and several UNP parliamentarians, including General Secretary Tissa Attanayake and Kurunegala MP Johnston Fernando, were present on the occasion.