The LTTE's recent attacks on civilian targets in which dozens of people have died or been injured have contributed to Britain adopting a more understanding stance on the Sri Lankan conflict, diplomatic sources said.
This softened stand is expected to be reflected in the talks that Lord Mark Malloch-Brown will have with President Mahinda Rajapaksa and other Government and Opposition leaders early this week.
Lord Malloch-Brown arrives in Colombo tomorrow on a three-day visit, the first by him as foreign office minister overseeing Asia, Africa and the Middle East. He had been to Sri Lanka twice before when working at the United Nations before taking up his current post.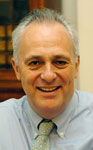 Lord Malloch-Brown
Britain is now not expected to push for a UN presence in Colombo to monitor Sri Lanka's human rights record which has come in for severe criticism by some other western governments and international organisations. Instead, Britain is expected to call for and help in, strengthening local human rights organisations, or 'capacity building' in today's parlance.
However Britain has not changed its position on the need to find a political solution to the long drawn out conflict in Sri Lanka, diplomatic sources said. Though Lord Malloch-Brown was thought of as a strong critic of Sri Lankan policy under the Rajapaksa presidency, he has denied this.
At the launch by Foreign Secretary David Miliband of Britain's annual report on human rights in the world earlier this year, Lord Malloch Brown told me that he has been misunderstood.
"I am a constructive critic of Sri Lanka," he said. This thinking is expected to be reflected when he makes Britain's position known during his talks.
"Britain is still concerned over several issues. She feels that the political process to find a solution to the conflict needs to be speeded up as that is the only lasting solution. The APRC seems to be stuck in a groove. Britain is also concerned about the disappearances and abductions and the harassment and intimidation of journalists. That cannot be condoned by any means," one diplomatic source said.
"But Britain is hopeful of the steps taken to bring political pluralism to the Eastern Province," the source said.
While Britain is sympathetic to Sri Lanka over the terrorist problem it has to combat having once been the victim of IRA terrorism and bomb attacks, Lord Malloch Brown is expected to warn Sri Lanka of the danger it faced in the EU over GSP + trade concessions if it does not take very tangible steps to halt human rights abuses.
He has already received reports from international media organisations over the recent physical attacks on journalists and others including a local official of the British High Commission in Colombo, and the general intimidation of the media, sources said.