The UNP has complained that the Police Chief has failed to respond to requests by the party for security for its North Central Province chief ministerial candidate Major General (Retired) Janaka Perera, despite police officially informing him that he was under LTTE threat.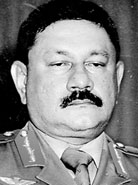 Maj. Gen. Janaka Perera
UNP General Secretary Tissa Attanayake said the party had sent two letters to IGP Jayantha Wickremaratna this week requesting security.
He said the Maj. Gen. had played a key role in weakening the LTTE and a police officer who had visited the Maj. Gen recently had officially informed him about the threats.
"Yesterday I met the Elections Commissioner who agreed that Janaka Perera needed protection. He said he too would discuss the issue with the IGP ," Mr. Attanayake said.
He said the UPFA candidate Berty Premalal Dissanayake had been assigned a platoon of 30 security personnel while Maj. Gen. Janaka Perera had not been provided any security personnel.
However, Police spokesman SSP Ranjith Gunasekara said he was unaware of any requests made to the IGP, but that Maj. Gen. Perera was entitled to the normal security provided to a candidate and any additional personnel would depend on the security assessment.