UNP Batticaloa district chairman and UNP member of the Eastern Provincial Council Arasaratnam Sasitharan yesterday blamed TMVP operatives for Friday night's grenade attack on his residence, in which two of his police guards were seriously injured.
The attack on Mr. Sasitharan's residence, which is located on Nalliah Road, in a high security zone, close to the hospital and 500 metres from the Batticaloa Prison, occurred just minutes after he and his brother had gone into their house from the garden.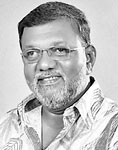 Sasitharan
Mr. Sasitharan told The Sunday Times that at 8 pm on Friday he had stepped outside his house to meet a group of his supporters, including his brother, and spent about an hour in their company. "At one point I received a phone call, and I went indoors. I came out again and later went back into my house, into the kitchen, with my brother."
According to Mr. Sasitharan, the attack took place at 9.14 pm. "Just after we came in, we heard a loud noise. When we came out, we found my police guards injured," he said. Mr. Sasitharan's supporters helped to take the injured policemen to the hospital. One of the policemen was admitted to the intensive care unit (ICU).
"After the attack, I received a call from the Chief Minister (Pillayan). I told him I was certain it was his supporters who were responsible for the attack. He said he would look into the matter," Mr. Sasitharan said.
The MP said that on Wednesday he had noticed someone following him on a motorcycle. The person was identified as a TMVP operative called Kalingan. "I had just returned from Trincomalee, and this person was following me around. He followed me when I went to the GA's office, and later followed me to my house.
At one point, I saw him making a telephone call," he said. "I didn't take this too seriously at the time. However, the next day I went to see the Head Quarters Inspector [HQI] and raised the matter with them, and asked for security protection. But no action was taken."
Mr. Sasitharan said men on motorcycles were seen cruising in the vicinity of his house hours before the attack. "There were about six motorcycles going around my house between 7.30 pm and 8 pm. Our gate was locked. So they would have thrown the grenade while riding a motorcycle," he said. Mr. Sasitharan said the number of people assigned to provide him with security had also been reduced.
"While others are given four security personnel, I am given only two," he said. "In fact, my security situation was discussed at a Provincial Council meeting on June 30. A letter was also sent to the IGP. But nothing has been done," he said. After the incident Mr. Sasitharan was provided with six army personnel and six policemen. However, by Saturday morning, the extra security had been withdrawn, leaving him with just two security personnel.
"They don't want a UNP party member to stay," he said. "They want to destroy the UNP in Batticaloa. I am the oldest party member and I will never give up politics, whatever they do." Mr. Sasitharan said he planned to take legal action in this matter.