The Police Department has been allocated a large proportion of the budget for the upcoming SAARC summit with plans to buy Radio Cars, out rider bikes and security gates, a Foreign Ministry official said yesterday. According to the estimates, of the Rs. 2.8 billion allocation, Rs. 2.1 billion will be for the Police Department.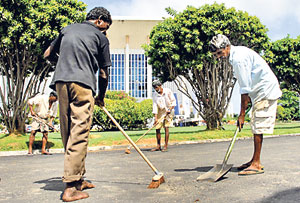 BMICH being given a facelift for the summit.
The estimate which was prepared by the budget committee is to be taken up for debate later this month.
Foreign Ministry has been allocated 354 million whereas the Bandaranaike Memorial International Conference Hall and the Colombo Municipal Council have been allocated Rs. 123 million and Rs. 222 million respectively.
"The Police Department has been allocated such a large proportion of the budget as a lot of security equipment needs to be bought to tighten security," the official said.
"We have decided to hire out all the vehicles needed for transportation of the VIPs. We have already called for tenders and selected one private company to hire 200 vehicles. Much of the capital expenditure is incurred by the police department to buy security equipment," he said.
A further Rs. 56 million has been allocated for entertainment and other purposes which include food and beverages of the security forces on duty during the summit from July 27 to August 03.
Benz bonanza
Eight bullet proof Benz-600 series cars and a similar number of non-bullet proof cars have been imported for the SAARC summit, sources said. A bullet-proof Mercedes Benz S 600 series car costs Rs. 60 to 70 million in Sri Lanka.