Pakistan Prime Minister Yousuf Raza Gilani will represent his country at the forthcoming SAARC summit in Colombo, the Pakistan High Commission in Colombo confirmed yesterday.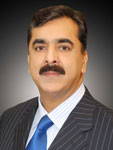 Yousuf Raza Gilani
He will be accompanied by Information Minister Sherry Rahman - a former editor of the Herald Magazine published in Karachi – and other Ministers. Foreign Minister Shah Mahmoud Qureshi will arrive earlier for the SAARC Foreign Ministers' meeting which precedes the main conference and join the Prime Ministerial party for the summit.
Under the new Pakistan Constitution, it is the prime minister who is the Head of Government, which means that President Pervez Musharaff who had attended the previous SAARC summits would not be present in Colombo.