A lawyer for senior journalist J. S. Tissainayagam said there would be no safety for any citizen, if a Sri Lankan could be detained for more than 126 days without reason. Senior lawyer Romesh de Silva told the Supreme Court on Friday that if Mr. Tissainayagam was not released it would mean that the liberty of any citizen could be taken away at a mere statement of another.
He pointed out that the Supreme Court had declared that Sri Lanka was compliant with the International Covenant on Civil and Political Rights (ICCPR) and that Sri Lanka's constitution guaranteed the liberty of a citizen. "Yet sections of the state are behaving like terrorists and detaining people arbitrarily," he said.
In his submissions to the Supreme Court on Friday, Mr. de Silva called for the release of Mr. Tissainayagam as no evidence had been submitted to the court to justify his prolonged detention. He said Mr. Tissainayagam had been detained on suspicion and that his continued detention was because of a "mere statement" by the OIC TID Prassana De Alwis stating that Mr. Tissainayagam had gone to meet LTTE members in the Vanni and also been given money by the LTTE.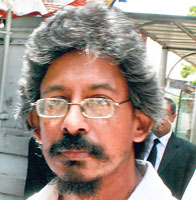 Journalist Tissainayagam: Spending 128 days in detention without being charged
"If someone says I got money from the LTTE to argue a case, would I then be detained," asked Mr. de Silva. He pointed out that many ministers and diplomats had also met LTTE members and so why then was Mr. Tissainayagam been detained on such an accusation.
Mr. de Silva submitted that since the criteria for detention after 90 days was that the Defence Secretary and the court had to be satisfied that Mr. Tissainayagam was a threat to public security. Since neither the secretary nor the state had furnished "a scrap of" evidence to show that Mr. Tissainayagam was a threat to public security, the journalist's detention was illegal and he had to be released forthwith.
State Counsel Parindra Ranasinghe said they could not release Mr. Tissainayagam. "Investigations are over. We got the IB reports last week," he said. Mr. de Silva argued that since the investigation was over there was absolutely no need to detain Mr. Tissainayagam further.
However, the state maintained that it could not decide if they would want to charge Mr. Tissainayagam or not and asked for time of one month. The Bench Comprising of Justice Raja Fernando, Justice Andrew Somawansa, and Justice P. A Ratnayaka, gave the state one month time to decide. The case will be taken up again on August 20.
Mr. Tissainayagam's lawyers also said that on June 30, Chief Justice Sarath N. Silva in a fundamental rights case filed by the CWC against the discriminatory arrest of Tamils, directed that if a person had been detained beyond the prescribed period in violation of the emergency regulations, the matter should be brought to the notice of the Additional Solicitor General and the Director of the police legal unit.