In a move to tackle chaotic traffic jams near leading schools caused by large numbers of four wheel drive vehicles, cars and school vans either dropping or collecting children during school opening and closing times, the National Transport Commission has begun a survey of the worst affected schools prior to re-introducing large school buses.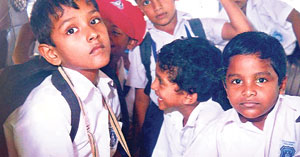 File photo. School children packed in a school van like "sardines in a can"
These traffic jams in turn cause tremendous losses to the economy by way of unnecessarily wasted fuel and loss of valuable work hours on the roads by people caught up in these traffic jams on a daily basis.
The NTC has sent out a questionnaire to parents of children attending 20 schools in the Colombo region calling for basic information, such as the distance children travel from home to school, the type of transport used, and whether they would like to send their children by school bus.
Many parents say that they are happy that the authorities and experts have finally woken up to the need to have school buses that had been virtually done away with, with the introduction of the open economy and the privatising of the transport services.
One parent told The Sunday Times that in order to send his child from Ratmalana to a school in Mt Lavinia, a distance of no more than four bus stops he had to pay Rs1,600/- per month to a van and this fee had to be paid even when the school was on vacation.
Another parent living at Raddolugama said he had to pay Rs 3,000/- to send his child to a school in Colombo. What was worse he said, was that each time there was a hike in diesel by Rs 5/- to Rs10/-, van owners increased fees by as much as Rs.200/- per child. Prior to the recent hike in fuel prices, the van had charged Rs2,800/- per month he said.
Chairman of the Commission Prof. Amal Kumarage however said, the intention was not to do away with the school vans, but to eventually get van owners to introduce buses.
"Many of the vans meant to carry five to six passengers were in fact carrying twice or thrice that number of children packed like sardines in a can. In contrast a bus can carry eighty children under much less congested conditions", the professor noted.
Professor Kumarage said around 370 school buses operated country-wide and they would increase this figure to 550 before the end of the year. While the SLTB maccounts for a bulk of the school buses, the private sector too operated 40 buses. In the Western Province the SLTB has put a cap on the number of buses to be deployed for school transport at 150, due to other commitments. Any further increase in the number of school buses in the province would have to come from the private sector he said.
Sources based in the Environment Ministry said according to preliminary surveys done by them, they expected as many as 20% of the school vans to fail the compulsory emission tests once they were introduced in August.
Prof. Kumarage said once they tackled to an extent the problem in Colombo schools, they would move to other cities, beginning with Kandy. The NTC Chairman had no illusions of comprehensively solving the problem, as some parents would insist on sending their children in private vehicles. The objective was therefore to minimize the problem as much as possible.
Since the problem in the vicinity of some of the international schools was no better, the authorities had commenced consultations with them as well.
Bus owners and NTC on collision course over AC buses
By Isuri Kaviratne
Air conditioned private buses are keeping off the roads as bus operators are suffering big losses caused by passengers opting to travel in non AC buses. On some of the routes AC buses have been totally withdrawn while on other routes the number of AC buses in operation had been reduced.
Chairman of the Bus Owners' Association Gemunu Wijeratne told The Sunday Times that as a result of the increase in bus fare, the AC bus had lost its competitive edge in the market.
He added AC bus fare was twice the normal fare, and the AC bus industry had completely collapsed. He charged the National Transport Commission had not taken any steps to mitigate its collapse. "They simply told us to replace the AC buses that are currently in use with 42 seat buses. But such an action would only increase our loss" he said.
Mr. Wijeratne said security fears had led to a drop in approximately 40% of passengers and as a result non AC buses too were facing difficult times.
Mr. Wijeratne felt a means of overcoming a situation where AC buses were pulling out of non-profitable routes was to introduce a company system. He said the present situation was not surprising as buses were run by individuals.
However the Chairman of the National Transport Commission Prof. A. Kumarage said the downfall of the AC bus service had not occurred simply due to the rise in bus fare alone. He said it was caused due to the poor service they supplied as well.
"It is normal when there is a price increase, the public do not use that mode of transport for sometime. But with time, they get used to it. Unfortunately, with the A/C bus service, they don't fulfill the requirements of a value added service which the public has a right to expect for the high cost they pay for it", Prof. Kumarage explained.
He added that the NTC was introducing proposals for reforming both the AC and semi-luxury bus services in 2009.