President Mahinda Rajapaksa who on Friday visited the sacred Tirupathi temple in Andhra Pradesh told Indian journalists that he saw nothing wrong with foreign leaders bringing their own security with them when they visited another country, accoring to a statement from the President's Office.
The President's comments came in response to questions asked by Indian journalists about security for Indian delegates during the upcoming the SAARC summit.
"I have my own security here. Any leader who comes to another country will not just walk in there. They will bring their own security. We consider it our duty to look after their security when in Sri Lanka but they also bring their own security. Every leader does that," the President told a news conference in Tirupathi.
When asked about a statement made by the LTTE's political wing leader B. Nadesan that the Government was not keen to resume talks, the President reiterated his position that he would talk to the LTTE, only if the group laid down arms and renounced terrrorim. "You know the problems you have in your own country with terrorists and terrorist organizations," he said.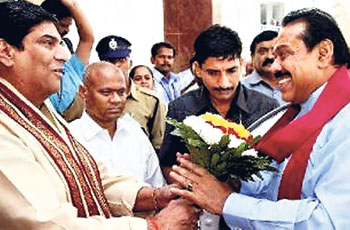 Warm reception: TTD Executive Officer K V Ramachary welcomes Sri Lankan President Mahinda Rajapaksa at Tirumala on Friday.
The President also said that terrorism strikes everywhere in the world. "See what happened in Kabul. You cannot achieve anything through terrorism," he said. Asked whether he was interested in mediation, he said it should be possible to settle the matter through direct discussions.
"We are Sri Lankans. We are all brothers; whether we are from the north, east or south. Surely we can settle this by talking to each other," he said. He said the LTTE had been defeated in the east and pointed out a former LTTE cadre who joined the organization when he was 15 had been elected the Chief Minister of the province after he entered the democratic process.
The President also described relations between the two countries as "very good." "India has always helped Sri Lanka. The countries of South Asia are regularly exchanging intelligence and information on terrorism," he said. The President also denied that the Sri Lanka Navy was harassing Indian fishermen who strayed into Sri Lankan waters. He said that it was the LTTE that was capturing some of the boats and using them to transport weapons and explosives forcing the Navy to take counter-measures.
Seeking divine help for peace and prosperity
TIRUPATHI: President Mahinda Rajapaksa had prayed in the temple of Lord Venkateswara on Tirumala on Friday night seeking peace and prosperity for his country and the world, Indian media reports said.
The President visited the temple accompanied by the Tirumala Tirupati Devasthanams (TTD) Executive Officer K.V. Ramanachary. He spent about 35 minutes in the temple.
During his visit several religious rites were performed. He worshipped Venkateswara in the sanctum sanctorum, where priests gave 'Harathi' and offered 'theertha prasadams' to him and also narrated the temple's legend in brief. He also prayed in the sub-temples of Vakula Devi and Yogi Narasimha Swamy, had darshan of Vimana Venkateswara Swamy .
During a brief chat with media persons outside the temple, he was asked about the LTTE. He refused to comment, saying that it was not the right time or place to speak on the issue. Asked about the SAARC meeting to be held shortly, he hoped it would be a success with the blessings of Lord Venkateswara.
Earlier in the day, the Sri Lankan President arrived by an IAF special aircraft at Tirupati Airport amid tight security. He was accompanied by his senior aides.
After being given a warm welcome at the airport by District Collector M. Ravichandra, Ralayaseema IGP RP Thakur, Superintendent of Police K. Lakshmi Reddy and other officials, Mr. Rajapaksa was driven to Tirumala where he was received by TTD Executive Officer K.V. Ramanachary and Special Officer A.V. Dharma Reddy.
Elaborate security arrangements were put into operation at Sri Padmavati Guest House, where he was staying.