The current un-abated wave of violence against media personnel must be a serious concern to all citizens of the country, Colombo's Anglican Bishop Rt Revd Duleep de Chickera said yesterday.
Describing the intimidation against the media as a violation of the people's rights to information, the Bishop also expressed concern over the continued detention of journalist J. S. Tissainayagam.
The statement said: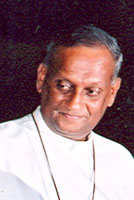 Bishop Duleep Chickera
"The most recent attack on Namal Perera and Mahendra Ratnaweera in broad day-light on a busy road in Colombo must be condemned unreservedly by all Sri Lankans. "The long drawn detention of Tissainayagam without a clearly-stated reason remains a continuing concern to many.
The country, and indeed the world, cannot understand why this Sri Lankan journalist is being treated this way. I urge the President to personally look into his detention. Investigations must be expedited. If found guilty of an offence, he must be tried under the law. If he is innocent, he must be released immediately.
"The inability of the authorities to so far investigate the several acts of violence and prosecute the perpetrators cannot simply be attributed to incompetence or the absence of evidence.
A very sophisticated intelligence system now prevails in the country. Consequently the process of law and order must be allowed to take its independent course so that professional freedom and personal security are both ensured for all media personnel.
"Many media personnel and their families have paid a very costly and personal price and we will never know the psychological trauma and physical damage done to them. I extend the solidarity and assurance of the prayers of our Church to all those who have suffered and whose dignity has been violated in the exercise of their professional and civic responsibilities.
"I call upon all Parliamentarians and Cabinet Ministers irrespective of political party affiliation, to raise and debate this issue. You are obliged to do so. You cannot remain silent or justify this trend."