Chief Inspector C.R.Wijetilleke's (57) family members were looking forward to his retirement next year so that he could spend more time with them.
During his more than two and half decades in the Police Department, he had served mainly in the north east including Kilinochchi,Trincomlaee, Mannar, Ampara with his last posting being as Head Quarters Inspector (HQI) Kalmunai.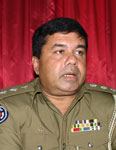 Chief Inspector C.R.Wijetilleke
Tragically for the Wijetilleke family, their dreams of spending more time as a family after the CIs retirement were shattered when the police officer decided to end his own life by shooting himself in his quarters using a T 56 on Friday morning.
What made a person who was a conscientious officer and loving family man end his life in such a manner is what has left his family confused and in shock. His wife, a housewife had raised their two sons almost singlehandedly while her husband was away on duty over the years and was looking forward to his retirement. Today she is in too much of a shock to even speak.
CI Wijetilleke's son Yohan too is finding it hard to come to terms with the tragic event of Friday. "The last time I met my father was about a month and a half ago. On Thursday evening I spoke to my father over the phone. He called me and wanted to know how I was faring. It was around 7 p.m. and when I told him I was having dinner, he joked and asked why I was eating so early. "That was my last conversation with my father," Yohan said.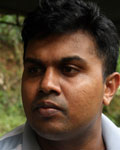 The son: Still in shock
"On Friday early morning, my father sent me a text message saying that a senior police officer had verbally abused him over the slaying of three businessmen in Kalmunai town on Thursday. Around 6.30 a.m.the same day I received a call from one of his colleagues to say that my father had shot himself inside his room. I could not believe what I was hearing," a grieving Yohan said.
After informing my mother I rushed to Kalmuni Hospital to identify the body," he said.CI Wijetilleke was stationed in Kalmunai when the tsunami struck causing massive damage to the area. He had worked tirelessly to assist the victims and had been involved in settling the dispute that arose with regard to the "tsunami" baby.
He had been in Kalmunai for four years and four months. Meanwhile The Sunday Times learns that during the Magisterial Inquiry into his death, it had been revealed that in his daily entry book, he had maintained all the incidents that occurred in his police division including the incident regarding the verbal abuse he had faced from a senior officer following the killings on Thursday.
| | |
| --- | --- |
| | |
| Wijetilleke's home in Dunagaha, Minuwangoda. Pix by J. Weerasekera | C.R.Wijetilleke inspecting devastation caused by the 2004 tsunami |
On that same day he had also been informed that he had been transferred out of Kalmunai with immediate effect and that he would have to work under a junior officer.
He had reportedly told his colleagues that he could not be held responsible for failing to prevent the slaying of three outstation vendors in Kalmunai or the inability to arrest the suspects.
It is widely believed that it was a culmination of these events following the slaying of the three businessmen that had led to his suicide.