How do you like your garden to grow?
View(s):

We're all abloom this week on Take 3 as we go shopping for plants. Which nursery offers the biggest variety on site? Who should serve as your consultant on a rooftop garden? Who will not only sell you plants but buy yours if they are good enough? Here's what you need to know: 

Oasis, No. 112/3, Kumaratunga Munidasa Mw.  Colombo 3. Tel: 011 – 2588656

It's easy to miss Oasis altogether – the discreet white sign is tucked into the lee of a construction site and the new building near Thunmulla junction towers above the little garden below. Flowers are in bloom though in A. Chitra De Silva's property. A truck is getting ready to carry away a bunch of plants destined as rented décor for some function – you can rent a plant for a day or even a month – and Chitra tells us that she prides herself on being able to provide a customer with a wide range of plants that creep and climb, that put forth fruits and flowers, that love the indoors or prefer to bask in the sun.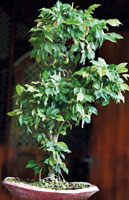 The nursery has been in her family since the December of 1946, when its Greek proprietor John Cosmos handed it over to his then manager – Chitra's father. Today she and her brother run it together, proud owners of what they believe is the oldest private nursery in the city.
Among a special collection are bonsai (which as collectors know routinely cost several thousand rupees), roses and orchids – all supplied to Oasis by specialised growers. Many are housewives whom Chitra has recruited to keep her garden full. She's also particularly happy to be able provide the "traditional plants" like tea, cinnamon and clove.
Delivery charges typically start at Rs.250 but vary upon distances. Chitra has been known to waive them for particularly loyal customers. The prices of plants can vary dramatically – Chitra says they cost anywhere from between Rs.50 to Rs.25,000.
Midula Garden Services, No. 260, Nawala Road, Nawala, Rajagiriya. Tel: 011 – 2806016/ 5735251
One of the few local nurseries with a presence online, Midula Gardens (www.midulagardens.com) is Ananda Jayasuriya's domain. You'll find their head office on Nawala Road, but more substantial collections can be found at nurseries in Paduka, Meegoda and Piliyandala which combined amount to several acres of growing things.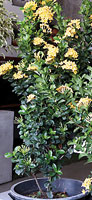 In their displays you'll find smooth, cement pots as well as pebbles of various sizes and a range of gardening tools. The business first opened in 1984, allowing Ananda to cut his teeth on the plant trade while still in school.
Judging by their display in the office adjoining the little nursery, Midula are a little on the expensive side. The price of plants varies depending on the variety and size, but Ananda says their prices balance out with plants going for as little as Rs.50 or as much as Rs.25,000.
They pride themselves on their rare collections of bamboos as well as their hybrid fruit plants and collection of ferns. According to Ananda, among their customers are the likes of MAS Holdings and the Havelock Building, for whom they designed and built a rooftop garden.
They're willing to put in the serious legwork a major garden needs – not just the plants but the paving and the fountains as well. At the end of a quick interview, Ananda makes one plea – that plant owners take good care of their charges. He's seen more than one neglectful new owner leave their plants to dry out.
Flora Kinder, No. 688/B, Kandy Road, Pattiyah, Kelaniya Tel: 0715427036
The largest nursery we visit belongs to Shrima and Dharmasiri Pinawela, a couple who have been married for 33 years and been in the plant business for 24 of them.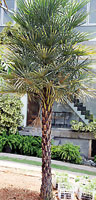 The live on the premises and have inducted their children into the business. Dharmasiri will tell you a chequered business history nearly led to their impoverishment, but the garden has been their salvation. The large space is filled with multiple pots of what Dharmasiri estimates are some 2,000 varieties. Having dabbled in sculpture, he says he and his wife routinely take on landscaping and design work as well.
They offer three different kinds of turf – Australian grass, Sri Lankan Buffalo and Malaysian Buffalo – for your lawn and also have the skill to create water features and fountains.
They handle the bigger plants as well and will transport trees if it comes down to it. Price wise, their offerings cover a wide range from Rs.50 to Rs.40,000. Though it looks a little on the scruffy side, Dharmasiri is clearly proud of their cactus garden and estimates 40 to 50 kinds of cacti (unfortunately, we're not able to distinguish that many) and says they cost between Rs.100 for the little ones to Rs. 10,000 for the behemoths.
Follow @timesonlinelk
comments powered by

Disqus