Study Medicine Overseas in the English Medium
View(s):

SLMC recognized medical degree programmes at an affordable cost

PATHE Study Medicine is the leading and foremost Education Referral Agency in Sri Lanka which is handling student placement overseas for over a decade. PATHE Study Medicine is a fully owned subsidiary of ANC Education, Sri Lanka's leader in higher education.

Medicine is one of the main streams of study sought after by many a Sri Lankan student. Hence PATHE Study Medicine has geared itself to cater to this need by contracting with some reputed Medical institutions overseas in facilitating our students (who are not fortunate enough to enter local universities) to study medicine over there. Accordingly such students are welcome to enter any of the following medical institutions with the able guidance and assistance of PATHE Study Medicine.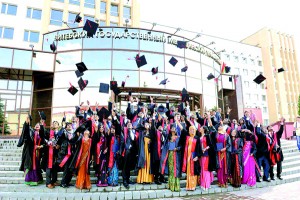 Vitebsk State Medical University (VSMU) in Belarus – Vitebsk State Medical University (VSMU) is located in the city of Vitebsk in Belarus in East Europe. Minsk is the capital of Belarus. Vitebsk is one of the 3 main cities of Belarus. The distance from Minsk to Vitebsk is about 280 kms. The International Highway from Moscow to Europe runs across Belarus and passes through Minsk and Vitebsk as well. It takes only a mere 2˝ hours to travel from Minsk to Vitebsk motoring on this highway.
Vitebsk State Medical University was founded in November 1934 and started enrolling foreign students in 1981. Since then more than 1250 foreign
students, including over 150 from Sri Lanka have graduated from here. Presently more than 5000 students, both local and foreign, including over 200 Sri Lankan students admitted by PATHE Study Medicine, are studying here. The MD (Doctor of Medicine) program awarded by VSMU has become one of the most attractive options among students who are seeking high quality medical education at an affordable investment. With many 3A and 2A high achievers from Sri Lankan and London A/Levels VSMU has earned a reputation as a place for high achieving medical students. VSMU graduates have performed exceedingly well in ERPM (Former ACT 16) examinations and have earned a reputation for their academic excellence in Sri Lankan medical system. With many students from leading medical families in Sri Lanka (Whose parents are consultant medical doctors) VSMU has earned a reputation for high quality education among Sri Lankan medical community.
International Medical University (IMU) in Malaysia – International Medical University (IMU) is located in Bukit Jalil, Kuala Lumpur Malaysia. Widely considered as the best Medical university in Malaysia, IMU offers a range of medical and health science courses for prospective students ranging from Medicine, Dentistry, Chiropractic, Biomedical sciences, Medical Biotechnology, Psychology, Pharmacy and Pharmaceutical Chemistry. IMU has strong partnerships with prestigious universities from Australia, New Zealand, Ireland, United Kingdom, and Canada. With large number of Sri Lankan students IMU has emerged as one of the best choices for Students in Malaysia.
Universal College of Medical Sciences (UCMS) in Nepal – The Universal College of Medical Sciences (UCMS) is situated at Bhairahawa, Nepal is officially affiliated with Tribhuvan University – Nepal's first national University. Tribhuvan University is a non-profit making autonomous institution funded by the Government of Nepal. The university is committed and dedicated to making it a source and centre of quality education to set up a culture of learning in the country and to promote the notion of national and global peace and harmony. USMC conducts the MBBS & BDS courses at its ultra modern campus in Nepal. UCMS campus has been equipped with all modern facilities for running the Medical College including well equipped Laboratories, modern Library, excellent clinical facilities, medical library and medical museum. With many students from Sri Lanka studying medical and dental science UCMS – Tribhuvan university – Nepal program is an excellent and affordable option in the region.
Angeles University Foundation (AUF) in Philippines – Angeles University Foundation (AUF) is located in Angeles City in Philippines, situated in South East Asia. Manila City is its capital. Philippines is now a newly industrialized country. Angeles University Foundation was established in May 1962, initially as a non-stock, non-profit educational institution. It was granted university status in April 1971 by the Department of Education, Culture & Sports of the Republic of Philippines. Today it is considered the premier university in the region. AUF offers fully English medium medical education at an affordable cost.
The degrees awarded by these institutions are recognized by the Sri Lanka Medical Council, General Medical Council (UK) and many others and also enlisted in the directories of the World Health Organization (WHO) Educational Commission for Foreign Medical Graduates (ECFMG) of USA etc.
Furthermore, PATHE Study Medicine is duly accredited by all the above Medical Universities as its official representative in Sri Lanka.
Unbiased and Proper Admission Advise – PATHE Study Medicine believes in total compliance with Sri Lankan medical system and regulations stipulated by SLMC (Sri Lanka Medical Council) to study medicine overseas. Medical graduates upon their return must fulfill the ERPM examination and other current requirements to practice medicine in Sri Lanka. This is considered an exception in an environment where the agents who misinform students and parents about such vital career related facts. PATHE invites prospective students and parents to attend a free counseling session to get further information.
For further information, registration and making application – Contact PATHE Study Medicine on Hot lines: 077-662211 (Sinhala and English) and 0777 570498 (Tamil and English) and on land line: 011-7631820. You are also invited to visit us at No.111/ -1/2, Maya Avenue, Kirulapona, Colombo 06. Website – www.pathestudy.org / e-mail: admissions@pathestudy.org
Follow @timesonlinelk
comments powered by

Disqus