Cinema Should be United
View(s):

The Cinema industry was never divided like today; Sanath Gunathilake

By Susitha R. Fernando

Sanath Gunathilake is one of the few Sri Lankan actors who have excelled as a popular star in commercial cinema while proving himself as a talented actor in arty movies as well. Over the last three decades Sanath played multiple roles in the cinema as an actor, producer, director and campaigner. For a short while he was also involved in the theatre of politics being onetime Media Advisor to President Chandrika Bandaranaike.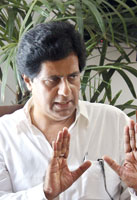 However this multi-faceted cinema artiste has been a diehard crusader for the promotion and upliftment of the local cinema. Sanath, a star who was not in the limelight for sometime and has returned with his newest and second film direction, talked to the TV Times about latest development in Sinhala cinema the crisis it is undergoing and where the solution lays.
TV Times: One of the biggest problems faced by the cinema industry today is film distribution. What is your opinion about problems faced by many filmmakers with regard to disparity in film distribution?
Sanath: Most of these producers and directors don't know when they are going to release their film and how they are going to recover their hard earned money invested on the cinema. The tragic phase of this issue is that few producers know very well when their films are going to be released. This is where the problem starts. One can explain this away as a problem caused by the open economy. But even in the open market the cinema should be a 'protected' industry. There should not be special favours for a selected group of filmmakers. It will be disadvantageous to many filmmakers specially those newcomers.
TVT: Where did we go wrong?
Sanath: The only period where all stakeholders in the cinema were treated equally and the system was going well was the time when Dr. D. B. Nihalsinghe headed the National Film Corporation. His policies worked well with the close economy that was there at that time. But the changes in the cinema took place with the changes in the economy and political system haphazardly. There were many attempts made and policies that were introduced to solve this problem. Even the policies introduced during President Chandrika Bandaranailke's regime did not work properly.
TVT: What can we do and where can we start?
Sanath: We must consult all the stakeholders in the cinema to find a solution. This should include not only producers, directors and actors but also technicians, distributors, theatres owners and also most importantly the patrons, the most important segments. And all these attempts to help cinema should be genuine and united. There was no time like this where there are divisions within the cinema industry in Sri Lanka.
We must start from where Dr. Nihalsinghe stopped. Unfortunately we have not used the knowledge and expertise of Dr. Nihalsinghe at all.
TVT: Do you think that the policy makers are also responsible for the present plight?
Sanath: Yes. There are rules imposed by the NFC but it does not take action against those who do not follow them. The circuit owners have to sign agreements with the NFC and they are bound to follow them. But some of them don't do this and the Film Corporation does not punish those who violate their own agreements.
Follow @timesonlinelk
comments powered by

Disqus