Iresha : Shining star in Europe
View(s):

By Sanath Weerasuriya

Iresha Wannakukorale is a talented musician based in Switzerland, performing with a Various bands in the club circuit including popular Sri Lankan band 'Friends'.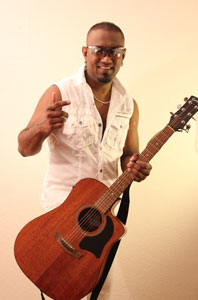 Iresha is one of the most outstanding characters in the music Sri Lankan music scene . Born to parents with musical talent, he discovered the gift he had as a teenager.Working it out with the guitars he developed a great passion for the stringed instrument. Besides playing Classical and Rock guitar he also mastered the Violin and in addition learnt to play other instruments. He enjoyed trying out solos on the Saxophone which he used often on stage.
Iresha is currently working out to cater to the European Market with original of his own. The new single will be released by June this year. 'Playing cover versions won't take you anywhere in Europe. That's why I have decided to do something of my own' he said He acquired a Diploma for classical Guitar at Conservatorium Winterthur in Switzerland in 2006.
His hard workout on keyboards enabled him to further discover the love to compose and write his own music. He is a verstatile singer too. He started off performing with bands like 'Zodiac', 'Cosmic Rays' and 'Heat' in Sri Lanka in early 2001.
This opened the horizon for him which took him to Dubai, where he performed with Bengi and his band 'Aquarius'. The stage was set and it he was soon invited to play with bands like 'Happy Express' and 'Friends' in Europe. Iresha toured and enjoys playing in Switzerland, Austria, Germany, Holland, Denmark and Italy with many European and Sri Lankan bands, catering to a very demanding markets.
His vision is to produce an album for Sri Lankan audiences. His current Sinhala song has been released titled 'Etha Thiya'. The video of this hit will be on Sri Lankan television shortly and while the song is played over the air on radio. As a proud Sri Lankan and working overseas as an expatriate, he hopes to do a concert in Sri Lanka in the future.
'I really wanted to host a concert of mine, may with with few of European based musicians and singers. I know it will be a big project but I should capture my dream one day' he added. Iresha is well intergrated in Switzerland and likes the country as he enjoys the quiet which is a ingredient for a musician and composer.
Follow @timesonlinelk
comments powered by

Disqus