Workshop for Young Readers
View(s):

Funday Times, together with the World Association of Newspapers and News Publishers (WAN-IFRA), organized a workshop for
Young Readers on April 25, 2013 at the Sri Lanka Press Institute auditorium. The workshop, conducted by Dr. Gerard van der Weijden, was attended by 63 participants between 10 – 13 years.
The kids had an interesting morning with many activities and exercises to motivate them to read newspapers and use them in the classroom.
They also had the experience of interviewing a young cartoonist. Divided into ten groups, the members of each group posed three questions to the cartoonist who fielded the questions confidently. After the interview, the groups wrote down and submitted their questions and answers.
Some of the children had their cartoons done in a few minutes. After a short interval for refreshments, Dr. Gerard spoke to the kids about the World Newspaper Reading Passport and the new Cricket Reading Passport. They were asked to complete the passports and send them in to Funday Times.
The winner of each Reading Passport would receive a prize.
Pix by M. A. Pushpa Kumara
Interview
We publish below some questions the Young Reporters asked cartoonist, Isuri Dayaratne and a summary of her replies.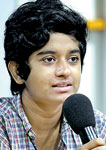 Group 1
Q: Who is your inspiration?
A: Pixar Animation Studio
Q: Usually how long do you take to draw a picture?
A: It depends. The Kali Ma picture you see on the wall took two weeks.
(Zainab, Shazra, Ashna, Sara, Dilanka, Asma)
Group 2
Q: What is your favourite drawing and why?
A: My favourite was the Hindu
goddess Kali Ma, because I had lots of fun with all the colours and shapes.
Q: Do you only draw cartoons? Why don't you draw realistic pictures?
A: Yes, I only draw cartoons. I think realistic pictures are boring.
(Nishrin, Shavindi, Juuhi, Shenali, Yenuli, Wimandhya)
Group 3
Q: Who encouraged you to draw?
A: My dad can draw. I think that's why I was interested in drawing.
Q: Was it your dream to become a famous cartoonist?
A: I don't consider myself famous, but yes, it is my dream.
Q: Was your hobby drawing?
A: It was doodling.
(Anam, Sherina, Samha, Mariah, Amaan, Binadi)
Group 4
Q: Who is your favourite cartoonist?
A: Jon Klassen
Q: Where do you get your ideas for your cartoons?
A: I first do some research, do some sketches and then draw them.
(Abdullah, Thanushika, Adil, Shukra, Aaqila, Hammaad)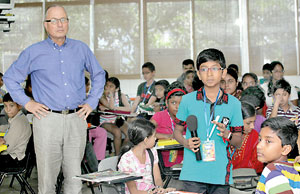 Group 5
Q: Why don't you have a background for your drawings?
A: Because I concentrate on the character.
Q: Why are you bored with realism drawings?
A: I guess I like to see a lot of humour in my drawings.
(Aqeela, Zuha, Ashwinn, Thesavin, Fihama, Mahrifa, Devanga)
Group 6
Q: What inspires you to draw Sri Lankan pictures?
A: Because it's my home.
Q: How do you get the exact picture you want?
A: It takes tons of sketching. At the first you may not get it but you have to keep trying. At the end I have my picture.
(Azraa, Serene, Mafaz, Haamid, Asala, Nabeeha)
Group 7
Q: Why did you choose drawing over banking?
A: Because drawing is fun.
Q: Can you draw someone in
five minutes?
A: Yes, I can. (Isuri was challenged to draw a member of the group which she did in less than five
minutes and she drew a few more too.) (Nathan, Lisala, Keziah, Shanaya, Nayantara, Dinuvi)
Group 8
Q: How many years have you been drawing and what have you gained so far?
A: I have been drawing for about five years. I have gained a lot of experience and had a lot of fun.
Q: Was your childhood ambition to be an artist?
A: My childhood ambition was to be an engineer but ended I up being an artist.
(Kaveen, Sandil, Chaveendra, Chandupa, Krishan, Faique)
Group 9
Q; Who helped you in your
drawings?
A: No one helps me. I do it on my own.
Q: Were your drawings your
imagination or by tracing?
A: My imagination.
(Ayyash, Althaf, Aadhil, Thilina, Sahan, Amisha)
Group 10
Q: In which school did you study?
A: Sirimavo Bandaranaike Vidyalaya
Q: Did you meet any challenges?
A: Yes, I found it hard to draw
backgrounds at first because I like
drawing characters more. Once
I was asked to draw backgrounds for a book project and I found that it was easy.
(Kesavan, Pawani, Savindu, Martina, Lalin, Dewmini, Dylen)
Follow @timesonlinelk
comments powered by

Disqus