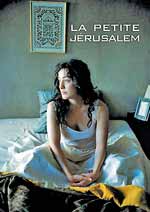 'La petite Jérusalem' (Little Jerusalem), a French movie about a beautiful Jewish young woman still living with her orthodox family in a Parisian suburb, falls in love with a Muslim co-worker, will be screened at 3 pm and 6.30 pm on May 22 and 23 at Alliance Francaise de Colombo.
Directed by Karin Albou the film tells the story of a young Tunisian-French girl, Laura. The Paris suburbs, a neighborhood of Sarcelles called "Little Jerusalem" because of many migrant Jews living there. Laura is 18. She is torn between her religious upbringing and her studies in philosophy she is passionate of, offering her an alternate vision of the world.
While her sister Mathilde tries to revive her marriage Laura succumbs to her first emotions of love. This confrontation with desire will change their destinies.
French film on wide screen with English subtitles is screened at the air-conditioned auditorium of Alliance Francaise de Colombo at 11, Barnes Place, Colombo 7.