Nations engaged in wars for long periods develop their own warrior traditions such as the Samurais of Japan or the Knights of England. In Sri Lanka Sinhalese armies had to battle invaders ranging from Cholas and Pandyas to the colonial powers, the Portuguese, the Dutch and the British. Young artist Prasanna Weerakkody developed his artistic skills initially drawing wildlife but soon found that he had a greater interest in military themes.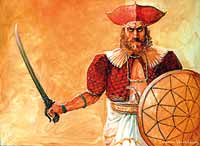 Kandyan Nilame with kasthane sword and leather shield with chain cover
Prasanna began researching historical battles, leafing through the pages of historical publications such as the Mahawansa and "Hatan kavya" and examining archaeological artifacts and temple art. He came across the Sinhalese warrior who had braved many a battle and as he delved deeper, searching for information on weapons and armory, a picture of our ancient warriors took shape in his mind.
"My interest in painting historical battles began a long time back. It was in 2002 when I had an art exhibition, and my paintings of these ancient warriors attracted more attention than my wildlife paintings, that I was prompted to take up this line of painting," said Prasanna. Prasanna's father is well-known sculptor Ariyawansa Weerakkody and his mother was also an arts teacher.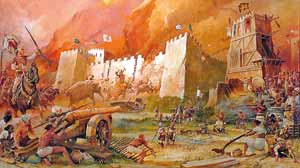 Siege of Colombo
The ancient kings have been a common subject of Weerakkody senior's sculpture and history has long been a hobby. Coming from such an artistic background, it was not surprising that Prasanna became interested in painting history. Prasanna looks to present every historical detail as accurately as possible in his paintings.
The soldier's costume, his armour, dress and even the background is drawn in detail to suit the particular era. The artist has also observed the evolution of weapons and arms and interestingly, he also looks into traditional dance costumes and sees a warrior inside these dancers. "Most dance costume elements are functionally efficient as armour and both arts were taught side by side in the Illangam schools where fighting was taught in ancient times.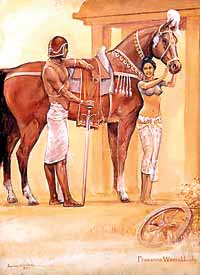 Delayed at the Gate: Prasanna gives a human side to the life of a Sinhala warrior
It seems the apparent dress of warriors in battle was adapted for the costume of the dance," says Prasanna. Veteran archaeologist Dr. P.E.P. Deraniyagala –in his work on Sinhala Arms and Armour draws this conclusion and Prasanna wants to expand on the concept, substituting some of the features of these dancing costumes with chains and other armour. Prasanna thinks that the British banning an ancient form of martial arts, Angam, too could have contributed to suppressing our warrior traditions, but also making them evolve by taking different forms.
Prasanna has received many commissions to create paintings and murals for Defence Academies, the Bandaranaike International Airport, the Defence Ministry among others. These are massive paintings of mostly historical battles. In his painting of the Devastation of Kelaniya, he illustrates how the Portuguese had attacked temples. Prasanna took four years to complete this painting. The 'Battle of Mulleriyawa' where Sinhala warriors had crushed the Portuguese forces took eight months to complete.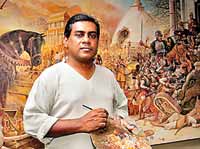 Prasanna Weerakkody
Prasanna's attempt to bring historical accuracy to his work is also seen in his painting "Siege of Colombo Fort" – a 10-foot work hanging in the Defence Services Command and Staff College in Kiribathgoda. In 1952, the Colombo Fort was a Portuguese stronghold but warriors of King Rajasinghe I laid siege of the fort and launched a fierce attack using elephants to break the strong walls. History also says the Sinhala forces had mobile towers that they used to attack the fort from high ground. All these historical facts can be seen in Prasanna's painting.
In the centre of this painting the artist drew an abandoned boat - his attempt to incorporate a separate story in the painting. "It is a little known fact that Portuguese used cannons attached to boats sailing on deep moats around the fort which could be Beira Lake. To overcome this, the Sinhala warriors drained the moat and made a quick advance surprising the Portuguese," said Prasanna, who felt this little element added to his painting completed the story.
In "Delayed at the gate", another painting, a woman is shown in conversation with a soldier. Here, Prasanna has incorporated the human element, making the viewer ponder as to what exactly transpired between the two people.