Dr. Milinda Salpitikorala is not your average man of medicine. Saving lives by night, on the dreaded nightshift and creating art by day, he is well known for his rather eerie, but extremely cool drawings. His line, Skzin & Bones, is well known, having been around for some years now. This is the doctor who likes to head bang.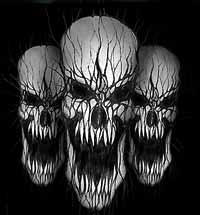 "Art is my pastime," he tells us. "I'm sketching whenever I have some free time. Most of my works have been drawn in snatches of time stolen in between work, scanned onto a computer and Photoshoped with colour." He also works on canvas with acrylic, which he finds difficult to create given time constraints, but a more rewarding experience.
These are not your average drawings with skulls on black backgrounds. Dr. Milinda's sketches incorporate a talent unique to him with his profession-the art of detail. The skulls are accurate and precise, to the minutest detail-they almost seem to be. 'An ancient love story' comes in three pieces. It begins with a head shot of the Dandubasmonara flying through the air and ends with the image of a demonic looking man and woman entwined under the shade of a cobra, which brings to mind the story of Rama and Sita.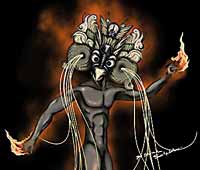 He will be exhibiting his works from May 26- 27 at the Lionel Wendt- a first for him. He's been working towards this for the last few years, and it has finally come to fruition. "The last few years have been a revelation to me in terms of my work," he smiles. "I've improved so much. I've learnt to appreciate depth when it comes to art and all my pieces have a story behind them."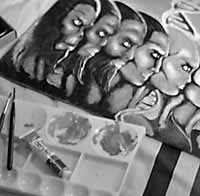 These stories will be explained to the viewer in the form of written explanations that will be on display alongside his pieces. He is adamant that it is important for people to understand the story behind his work before they buy it. But then again, it's open to interpretation. He knows that what the drawing meant to him could be something completely different to what the drawing will mean to the viewer.
These pieces have been grouped into several categories, and include artwork for his t-shirts as well. The t-shirts have proved to be wildly popular-Dr. Milinda occasionally forays into rock concerts to sell them off to a loyal fan base, and they're grabbed up before he knows it. Some of the drawing styles have been rather intriguingly named Omega-Lin, Armour, Cranial and Forage.
His enthusiasm for next weekend's show is infectious. This is a guy who clearly loves what he does- in professional and personal life- with a passion. He's one of the lucky few who've somehow managed to blend the two together, using his work to bring to light his creations.