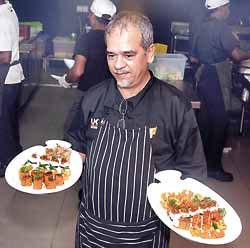 Urban Kitchen, the popular food court at the Arpico Hyde Park centre launched their latest menu earlier this month. Head Chef Jerome La Brooy introducing the menu to the media said they had dared to do something different with the hope of giving their customers an experience of every ingredient in a dish. "We changed it to make it interesting and not boring for the customers and the chefs," he said adding that in the past years since they opened, they had changed the menu three times "and that is every eight months," he added smiling.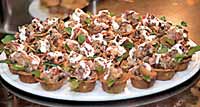 Urban Kitchen offers an extensive choice of 233 different food varieties, including European, Middle Eastern, Chinese, Italian and Mexican cuisines among others. Of the vast selection available on the updated menu at Urban Kitchen, almost half are new additions. Experimenting with diverse combinations of ingredients, an innovative touch has been given to even the existing dishes by the Head Chef with the aid of Executive Sous Chefs Nishad Jayawardena and Mohamed Azmi.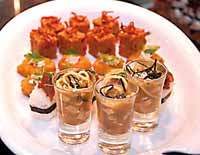 The 25 page menu features an assortment of food choices under Starters and Snacks, Soups and Salads, Sandwiches and Wraps, Pizzas, Pastas and Risottos, Sushi, Sashimi and Rotis. Even the more standard dishes such as burgers, pizzas and sandwiches have been given a distinct Urban Kitchen flavour, while the exotic dishes are unique on their own. Vegetarians and children have separate sections to choose from.
As starters, customers can try appetizers such as the Peking Duck Pockets or the Urban Nachos while Roasted Tomato Soup and Vietnamese Paper Rolls come especially recommended by the chefs. The Creole Jambalaya, Crab and Lemon Grass Risotto and Cajun Prawn Pasta are among the delectable specialities offered as main meals.