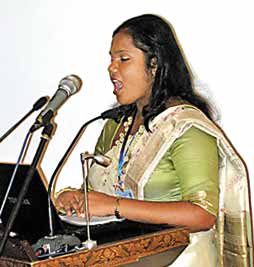 Hansani
In a bid to address the concerns of unemployed youth the "Young Voices from Sri Lanka" workshop was held recently at the Sri Lanka Foundation Institute, Colombo. It was organized by the International Labor Organization (ILO) - Sri Lanka in partnership with the Ministry of Youth Affairs and Skills Development.
The topic for the workshop, 'Youth Employment Crisis' was decided by the governing body of ILO as the chosen topic for the General Discussion at the International Labor Conference.
The programme included a group discussion with the aim to review the draft resolution for adaptation and to review good practices on youth employment. Nine resolutions were highlighted, including promoting job creation in rural and remote areas, improving the quality of education and training, as well as equal opportunity to learn all three languages, recognizing skills gained through non-formal or informal learning and giving due respect to all categories of jobs.
The workshop included sessions where young people from the audience were asked to relate their own experiences and expectations and offered firsthand insights into local job markets.
Among those who voiced their view included Sithara Hansani from Polonnaruwa the daughter of a farmer. She explained that although she had the necessary qualifications needed to go to university her dream was to work in the textile industry, so she came to Colombo and joined Brandix College of Clothing Technology. "The culture in Colombo is different to what I was used to. I had to adapt to a new life style to survive in the fast changing world," says Sithara. She believes that there should be a better balance between teacher-centric education and child-centeric education, in order to promote personality development, teamwork and leadership qualities.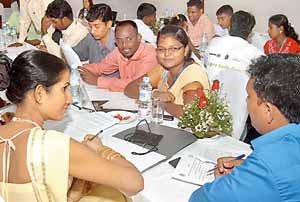 Pix by Nilan Maligaspe and Athula Devapriya
For Thinooja Nagarathnam from Kilinochchi, she conveyed her views on community service as a means for gaining more exposure for youth in her community. Thinooja whose aim is to help youngsters in her community gain better opportunities for employment and education, was able to complete her ordinary level examinations while at school and with difficulty completed her advanced level examination while at a relief camp. She is a member of the National Youth Services Council (NYSC), Sarvodaya and the Red Cross society (RCS). Through the RCS she gained several diplomas and helped with a disaster management project during floods in Mannar.
The workshop brought together youngsters from all parts of the island and offered a refreshing exchange of views. The workshop ended with many believing it was a step in the right direction to gaining an insight into youth unemployment and that engaging the younger generation in discussions and gain new ideas it would initiate meaningful steps towards resolving this evolving crisis.