'Vijaya-Kuweni', the maiden cinematic direction of veteran dramatist Sugath Samarakoon is now being screened successfully at Regal Colombo and other CEL circuit cinemas around the country.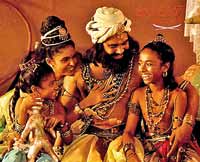 Produced by Gayan Ranadheera, the film features talented stars like Roger Seneviratne, Dulani Anuradha, Cletus Mendis, Wasanthi Ranwala, Buddhadasa Vithanachchi, Sarath Dikkumbura, Sandun Wijesiri, Tilak Kumara Rathnayake, Stanley Krishnaratne, Rupun Ranadheera and Amandi Priyanjana.
Based on the historic tale of prince Vijaya's arrival in Sri Lanka with 700 of his followers, the film narrates how he met Kuweni and the incidents that unfolded thereafter.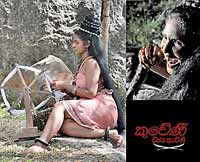 Vijaya was the eldest son of king Sinhabahu (Man with Lion arms) and his queen Sinhasivali of Lata Kingdom in India. He landed in Sri Lanka with 700 followers in 543 B.C. where he met Yaksha Clan spinster Kuveni who had been undergoing an unfortunate life since her birth. The couple engaged in a dual-war which ended up with Kuveni becoming the mistress and the wife of Vijaya.
She bore him two children, named Disala and Jeevahattha. Seven years later, following a conspiracy instigated by Vijaya's advisers and ministers, claiming that Kuveni was a human flesh eater of the Yaksha clan, and that her children will succeed to the throne. They convince Vijaya to get a princess from India and to marry her and get rid of Kuveni and her two children.