Having received a standing ovation from all three judges of 'Australia's Got Talent' (including Brian McFadden of Westlife) - Andrew De Silva is hopeful at a second shot at stardom as the Mirror Magazine finds out.,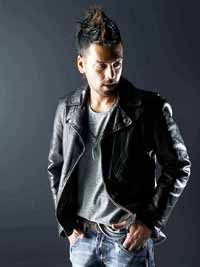 Andrew De Silva brought audiences and judges to their feet when he auditioned for Australia's Got Talent 2012. Waiting in the wings with his wife were his two little girls Yazmin (10) and Jada (9). It was a special moment for his family – they were watching Andrew make the comeback of a lifetime. If you combined the ages of his kids, you'd know how old Andrew was when he first became famous as a member of the band CDB. That success was the culmination of years spent learning hi s craft.
The child of a Sri Lankan couple, he was born in Melbourne in 1974. "My parents were very supportive when it came to music as my dad was playing in bands himself," he told the Mirror Magazine over an email. "I played many instruments as a teenager which led me to write quite a few songs." Andrew first began learning to play the piano at the age of 8. He then went to learn both the guitar and the bass guitar, becoming particularly accomplished on the latter. "I started producing music at a young age and there wasn't many people making R&B music at this time so I certainly got a lot of attention from the music industry."
It was a heady coming of age for Andrew, and he looks back on that time with fondness. "I met the guys after they had already been formed," he says, explaining that the other members of the band were all Anglo-Indians. They were performing at an underage night club when introductions were first made. "They had heard about my song writing and I had heard about their amazing harmonies and stage performances," he says. "Everything worked together well which led to many record companies offering us recording deals." As one of the front men and the primary song-writer for the Melbourne based R&B group, he would receive an ARIA award for Highest Selling Single in 1996. 'Let's Groove' – a cover of an Earth, Wind and Fire song – sold 70,000 copies and went Platinum. When they released their album 'Glide With Me,' it was certified Gold, generated 4 hit singles and sold over 35,000 copies.
Those watching the videos had no idea that Andrew actually struggled with a stutter. "It's been a lifelong thing," he says. "Although it's not a severe stutter it still holds me back from doing things." But despite his difficulty in chatting with the audience, performing with CDB (Create-Dream-Believe) was a liberating experience for him. "It's virtually impossible to stutter when singing - so singing and song writing became my favourite ways of communication," he reveals.
However, a diagnosis of cancer when he was just 23 forced Andrew to make big changes in his life. "I decided to leave the band and everyone was very understanding as they knew I needed some time out." After undergoing multiple bouts of chemotherapy he had to follow up with regular tests for the next five years, until he was finally declared in the clear. "After the chemo treatment my perspective on life changed. I just needed some time out and felt like I was going make some changes in my life." But if one thing remained the same, it was his love for the stage. "I love performing mainly to give a piece of who I am through the gift or music," says Andrew, who began to take on smaller individual gigs. Now in his late 30s, Andrew decided he might be ready for the big time again.
"It was a very positive experience," he says of his stint on Australia's Got Talent. "I knew it was something that I just had to do." The singer has since been overwhelmed with messages from people thanking him for inspiring them and wishing him the best. He believes that success on the show will open the door to bigger audiences and more gigs – he hopes one of these might even be in Sri Lanka. Though he's only been here once as a young boy, he says he feels a connection to the island. "It's got to be in my blood. I certainly know I'm not made for this cold weather in Melbourne!" he says.
But the real promise is that he will find an audience for his original music. "I've written and recorded so many songs over the years so I do have an album ready to go," he says. He already has the fans rooting for him, not least Yazmin and Jada who love his songs. "They pick up the words and melody very easily," he says.
His strategy for the upcoming semi-finals of Australia's Got Talent is to just go all in – he'll be singing one of his own songs called 'Beautiful Things.' It "describes the hard times that we all go through but in the end these too are the beautiful things in life, as we can grow into something much more out of them," he says.