Put together an accountant, a soldier, a construction worker and a teacher, and it is almost certain that the result would not be a dance drama.
However, Asoka de Zoysa and Nilan Maligaspe beg to differ, looking back on the past few months where their diverse cast would spend every spare hour on rehearsing for 'Another Tempest' which will take place on May 28 at The Warehouse Project in Maradana. "Not every member of the cast is a full time dancer," explains Asoka. "Many of them in fact divide their time among several other activities, sometimes travelling for three hours simply to get to a practice." For dramaturge Asoka de Zoysa and choreographer Nilan Maligaspe, it is this devotion, coupled with the new perspectives brought to light in a much retold tale, which gives 'Another Tempest' its appeal to an audience.
Long before Asoka de Zoysa began the process of translating Aimé Césaire's UneTempête, the tale of Shakespeare's Tempest was one which held a great deal of fascination. "When Shakespeare wrote The Tempest in 1611, no one ever really thought of what it must feel to be the colonized; and yet when we read it now we are able to recognize the impact of colonialism for what it is; having been through the experience of colonization. I feel that Césaire's more recent retelling of the story takes this up further and has the capacity to open up some interesting new debate on what remains of colonialism today."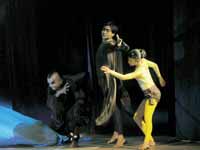 "Aimé Césaire was an active member of the Black Pride Movement known as 'Negritude' and was a strong advocate of the cause of breaking away from the colonial mindset," he continues. "He wrote two collections of poetry on Africa and the slave experience, and four plays. His "Une Tempête" is regarded as the most successful Francophone Drama, and in this dance drama production we have placed a great deal of importance on picking exactly the right scenes which would convey this; and then using choreography to its best effect in depicting these scenes."
This is where expert choreographer Nilan Maligaspe comes in. He established the Arpeggio Creative Dancing Academy 20 years ago as a foundation for students from underprivileged backgrounds, and the academy focuses on the importance of choreography in narration. This production promises to be a testimony to this approach.
When the dance drama was first performed in March, it received praise from its audience for its creative use of stage space, visual effects, music and movement. "Yet some members of the audience felt that at times the drama was slightly ambiguous; not tapping into the potential of bringing the mindset of the colonized into the spot light."
Accordingly, the re-run promises to cover some new ground, combining the previously used tableaux and excerpts of dialogue from the translated play. "What is interesting is that we have made an attempt to juxtapose different cultures through music and speech- putting together- for example- traditional percussion and classical European music," explains Asoka. "We feel this underlines the subtext of the drama more effectively.
Tickets for the show priced a Rs. 300, 500 and 1000 will be available at the Goethe Institut.
For more details, contact
+94-11-2694562 or
+94-11-4712636.