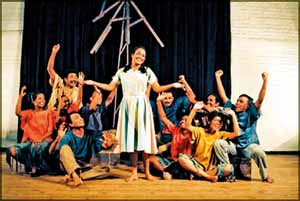 Somalatha Subasinghe's 'Vikurthi' will be staged at the Lionel Wendt Theatre on Saturday, May 26 at 3.30 p.m and 7.00 p.m. This will be a presentation of Lanka Children's and Youth Theatre Foundation - popularly known as Play-house Kotte.
Vikurthi (Distortion) is a play by Somalatha Subasinghe, a satirical exposure of a hapless generation of youth whose lives were dominated by incessant struggles between the parents' aspirations and the youth's abilities and preferences. In the 1980's, at the time the drama was conceived, the widespread social tendency was that of the aspiring parents trying to achieve the missed opportunities of their own lives through their children. Consequently, the children were forced to study for competitive government examinations such as GCE (O/L) and GCE (A/L), specifically in the Science Stream disregarding their aptitudes and available resources at respective schools and the universities.
The play discusses in depth how this anti social process denied youth of their own life, which in turn deeply affects them in many ways. The production is a semi-musical which is a familiar theatrical experience to the local audiences.