The left and right arm spin combination of Rishane Mathangaweera and Shivane Perera guided S. Thomas' to a five wicket win over Mahinda in their Under 19 inter-school cricket encounter concluded at Mt Lavinia yesterday.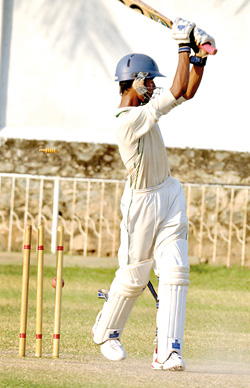 B-O-W-L-E-D. Zahira's Dilshan Hilmy is bowled by J.S.S. Perera of St. Benedict's
Rishane who wrecked the Mahinda first inning with a career best figure of 8 for 27 continued from where he left when he bagged four more scalps in the second innings to end with a match bag of 12 for 93.
Shivane too made his presence felt as he sent the Mahinda batting reeling in the second innings with impressive figures of 6 for 24. The morning sessions play saw Mahinda resuming on their overnight score of 39 for 5 being bundled out for 72.
Mahinda batting the second time with a deficit of 139 runs again fell into deep trouble with this time Shivane running through their batting and putting them in dire straits with the score on 133 for 7 just before tea before being bowled out for 153.But even then Mahinda gave S. Thomas' chasing a simple target of 14 runs some anxious moments as they fought back before the home team reached the target for the loss of five wickets.
The opening day's play saw S. Thomas' taking first lease of the wicket being guided by Umesh Fernando who made 50 and Thilaksha Sumanasiri who made an unbeaten 61 enabling them make a modest score of 211.
S. Thomas' 211 (Umesh Fernando 50, Asiri Wickremanayake 26, Sachin Peiris 24, Thilaksha Sumanasiri 61 n.o.: Chalana de Silva 6 for 82, Sohan Kariyawasam 2 for 40) and 15 for 5 (Chalana de Silva 4 for 8)
Mahinda (39/5 overnight) 72 (Sohan Kariyawasam 23: (Rishane Mathangaweera 8 for 27) and 153 (Sohan Kariyawasam 30, Praveen Mandalawatte 23, Chalana de Silva 20: Shivane Perera 6 for 24, Rishane Mathangaweera 4 for 66)
Tame draw at Maradana
The Under 19 inter-school cricket match between Zahira and St Benedict's played at Maradana ended in a tame draw. Zahira in reply to St Benedict's score of 200 resuming from their overnight score of 59 for 2 went on to make 190.
St Benedict's 200 (Thilina Silva 28, Jason Perera 23, Madura Madusanka 22, Arjuna Perera 20: Irshad Umar 4 for 33, Lakshan Edirisinghe 2 for 45) and 124 (Sameera Sandamal 33, Madura Madusanka 17, Dilan Angelo 15, Yohan Zoysa 15: Mohamed Basith 3 for 30, Pradeep Ananda 2 for 14, Wasim Sinnen 2 for 19)
Zahira (59/2 overnight) 190 (Irshad Mohamed 61, Ahmed Hamden 27, Imras Rafi 26, Mohamed Arshad 24: Yohan Zoysa 4 for 17, Dilan Angelo 2 for 53) and 63 for 5 (Imras Rafi 16 n.o.: Jason Perera 2 for 18)
Trinity gain second win
Never really threatened, Trinity coasted to their second win when they beat Kingswood by an innings and25 runs at the Asgiriya Stadium. Lakshita Dissanaike (71) and Akila Jayasundera (55) took center stage in theTrinity innings of 250 for 6 declared.
Bowled out for 90 early on the second day, Kingswood did well to total 135 in 67.2 overs. Skipper Nishita Weerakoon, Rajitha Wijeratne and Lakmal Hettiarachchi helped to prolong the innings with defensive play. Left arm spinner Lakshan Jayasinghe (5 for 7) ran through the visitors in the first essay.
Trinity 250 for 6 dec in 48 overs (L. Dissanaike 71, A. Jayasundera 55, A. Jayasinghe 23 n.o, D. Wickremanayake 19 n.o; C. Unamboowe 2 for 56, T.C.Gunaratne 2 for 33)
Kingswood 90 in 52 overs (T. Marasinghe 21, R. Wijeratne 33, N. Weerakoon 23; L. Jyasinghe 5 for 7, J. Ranasinghe 2 for 21) and 135 in 67.2 overs (I.Hettiarachchi 32, C. Gunaatne 24, N. Weerakoon 17)
- AK