In a hard fought encounter between two largely even teams, Police pipped Navy for a 2-1 victory during their Dialog Champions League football match at Police Park yesterday. The sailors earned their solitary goal from Chathuranga Sanjeewa while the policemen registered two goals from Manjula Prasanna and a Mohamed Rafeek penalty. Police took the initiative early, bursting into Navy's half of the field with regularity and frequently bringing their opponents' goalie Ajith Kumara into play with threatening corner kicks and questioning strikes at goal.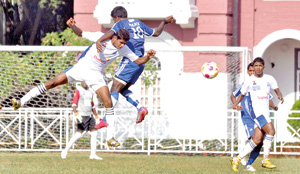 Police's Nadeeka Pushpakumara challenges Sanjay Silva for the ball. Pic by Amila Prabodha.
Kumara's goalkeeping counterpart, Prasad Alwis too was not completely spared any alarm and was forced to punch the ball away to safety on more than one occasion. Then in the 24th minute of the game, against the run of play, Navy struck. Chathuranga Sanjeewa rose gracefully to powerfully head home a beautifully weighted ball into the box.
The goal, although stunning and silencing the home fans, did no such thing to the police players, and they recovered well by immediately pushing their way back into Navy's half. Their resilience was rewarded on the brink of half-time, when Manjula Prasanna clinically dealt with a laser-guided cross into the box by belting it past Alwis in the 47th minute.
The second half proceeded much the same way as the first with both teams exchanging blows in a frenetic slugfest, with no clear winner yet apparent. At times this metaphor took on a more literal meaning as both teams indulged in excessive physical play which yielded yellow cards for three of police's players: Thushara Sampath, Nilantha Pathirana and Sampath Bandara.
In the 69th minute the deadlock was finally broken when Thilanka Nandasiri handled the ball in the box. Mohamed Rafeek stepped up to take the resulting penalty to the cheers of the home crowd, and sent them several decibels higher when he blasted the ball into the back of the net past a helpless Kumara to seal a match which had seen both sides give everything they had.