The Asian Sevens consists of four tournaments in the series. Japan is firmly ahead at the end of the second of the series played in Borneo. Hong Kong closes behind. Korea China and Philippines lay in 3rd 4th and 5th place sharing an equal 17 points. Philippines is in 5th place after huge leap to runner up in Borneo from 7th in Shanghai.
They surprised everybody by being the finalist in Borneo meeting Japan after beating Korea in the semi finals. Sri Lanka is in 10th place after winning the bowl in Borneo. Hopefully we should take the experience and plan for the next two sevens series which is in Thailand in November and Goa India in December.
Compared to the performance in Shanghai where SL beat only Mongolia Sri Lanka beat Thailand in the bowl semi and Kazakhstan in the final. In the pool stage Sri Lanka lost to Korea by a mere 2 points but lost to Thailand by a bigger margin. Yet they beat Thailand convincingly in the Bowl semi. What Sri Lanka need is to plan and train with all putting their weight to get to a higher position than they are in at present.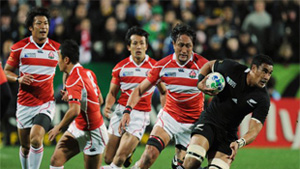 Japan was no opposition to the marauding Kiwis
Talking of development of Rugby in Asia we see once lowly placed Philippines raising its head and India hosting the Asian Women's sevens this week and another Asian series Sevens in December.
There has been little argument that Japan has been the leading rugby playing nation in Asia. At various times Hong Kong and Korea has taken the next two slots. Philippines look to be the new kid on the block. Time will tell whether the climb is real or just another passing cloud. As Sri Lanka keeps fighting among ourselves it is clear that it is not only that we are losing are place in Asian Rugby but we are also loosing the status we had as a location. We came far with the Kandy sevens but now?
It is turning to be a clash of personalities where the crafty play politics. While some fight to retain their say others find the opportunity to regain positions lost not for rugby but for them. Some follow hoping they would be given a chance to stir while others lead embracing enemies as circumstances now forge what was once thought as an unlikely alliance.
Japan the dominant force in Asian rugby stands tall many feet above those closest to them. Yet they find themselves far from the world class as they failed to end their 20-year winless streak at the rugby World Cup. In twenty four years of world cup they have one win in 1991 beating Zimbabwe.
Japan Rugby Football Union (JRFU) chairman Tatsuzo Yabe told reporters "We had thought Japanese rugby had improved over the last four years, step by step. However, we found out first hand that we are far from world class," "Our target was to win twice at this tournament, but we are going home with no wins. It's hugely disappointing, and we are sorry for not being able to meet the expectations of our fans."
"But the future of Japanese rugby lies ahead of us. As soon as we return home, we will begin our rebuilding plans. "We have a huge goal of making the 2019 World Cup a success and to reach that goal Japan must join the top tier nations at all costs. "We still have a lot of catching up to do with the tier one nations and we need to invest in the development of the team more than ever." Just as they drop the next plan is expressed and they will work towards it. That's because they thought they had reached somewhere; they have not.
One problem that bugs Japan is the lack of competition needed to face the world class. Argentina another country that did well in the last world cup too faced similar issues with less competition in the region they play. They would get over it as they join the tri nations in 2012 to be the four nations.
Just as much as Japan finds it difficult to reach heat best the rest in Asia find it difficult to reach up to Japan. While this goes on some of us find it hard to reach the rest of Asia. Philippines on the other hand seem to be working to stay on par with the others at the top.
While others seem to be locking ahead we in Sri Lanka is looking at next battle in hand. Politics of rugby is taking the game in a direction that is not the best while it has brought many parties to the front. We have heard the statement "Politics makes strange bedfellows." That was said in or around 1850. Shakespeare in tempest said "misery squints man with strange bedfellows while some said "poverty has strange bedfellows" as well as "necessity makes strange bedfellows. " Rugby has a soup of politics, misery, poverty and necessity brewing on a fire with no palatable taste.
Vimal Perera is a former Rugby Referee, coach and Accredited Referees Evaluator IRB