Roshan Fernando and Roshan Randima put on an offensive exhibition to make sure that the Colombo Basketball Club annihilated the Carlton Basketball club by a mammoth 92 points to 59, to claim the 2011 Carlton Cup at Police Park yesterday.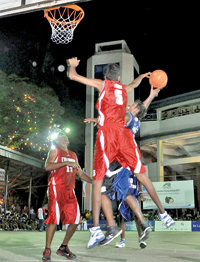 A Colombo Basketball Club player sends back a Carlton shot attempt. Pic by Amila Praboda
Colombo's win was sweet revenge, as Carlton had denied them in the final of the 2010 edition of the Carlton Cup. Fernando was simply sublime with 30 points of absolute skill, oftentimes cutting through the entire Carlton defence single-handedly. However, he received more than ample support from Randima, who dished out his own share of bamboozlement in earning his 27 points. For Carlton there was nothing much to write home about, and Mithila Abeysekera's 12 and Sidath Senanayake's 10 will offer little consolation to a team which was thoroughly outclassed in all departments.
Carlton were never allowed to get into their groove and stumbled from the beginning, missing easy shots under and around the basket. Nevertheless they did jump to a 12-6 lead early in the first, but that was to be the full extent of their dominance as Colombo roared to life. With some nifty dribbling and eternal hang time, Fernando was Carlton's chief tormentor, and awed the large crowd gathered to watch what they hoped to be a worthy final between two even opponents.
After applying the screws defensively, Colombo began to run circles around Carlton's hapless defenders, scoring at will and running into half time with a healthy 35-25 lead. Colombo exploded in the third quarter, racing to 59-33 on another successful drive by Fernando. Randima added two free-throws to further swell the lead.
By the beginning of the fourth quarter, with the score on 69-42, the result of the match was a foregone conclusion, and the only thing that remained for Carlton to do was salvage some respectability to the score by reducing the deficit. However, this was not to be as they watched the lead grow still larger, taking with it their championship crown.