Out of favour left arm seamer Thilina Thushara, who last wore his national crest on November 19, 2010 while playing against West Indies in the first Test in Galle, has not been handed a main Central Player Contract for 2011/12 while new found Lankan opener Lahiru Thirimanne has made it into the first twenty names when the National Selectors penned down their preferences for the next year.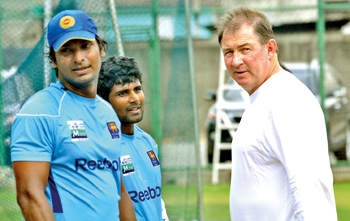 Sri Lanka's new coach Geoff Marsh and its former skipper Kumar Sangakkara watching the rest of the brood at practices during the coach's first session on Thursday at the SLC Practice nets at the Premadasa Stadium. (Pic by Amila Praboda)
Though the previous contracts for 2010 expired at the end of February 2011, the new contracts were delayed at various stages due to different reasons, until they were finalised a few days ago. Once again the twenty names have been divided into six categories.
However, the position of fast bowler Lasith Malinga has once again raised a few eyebrows, given his decision to stay out of Test cricket. Though Malinga was originally in the fourth category last year, he was moved up to Category One by the then selectors after he protested and gave a promise that he would take part in Test cricket (while looking after the injury that prompted him to stay out of the longer version of the game). They also considered his vast improvement as a wicket-taking bowler.
Player Contracts for 2011:
Category 1: (US$ 127,000 or 13.9 million rupees per annum) Tillekeratne Dilshan, Mahela Jayawardena, Kumar Sangakkara, Thilan Samaraweera and Lasith Malinga.
Category 2: (US$ 82,000 or 9 million rupees p.a.) Nuwan Kulasekera, Angelo Mathews
Category 3: (US$ 66,150 or 7.2 million rupees p.a.) Upul Tharanga, Prasanna Jayawardena, Ajantha Mendis
Category 4: (US$ 49,750 or 5.4 million rupees p.a.) Rangana Heart, Tharanga Paranavithana, Suraj Randiv
Category 5: (US$ 33,075 or 3.6 million rupees p.a.)
ilhara Fernando, Thisara Perera, Chanaka Welagedera
Category 6: (US$ 22,000 or 2.4 million rupees p.a.) Chamara Kapugedera, Thilina Kandamby, Dinesh Chandimal and Lahiru Thirimanne
However, halfway through the season Malinga once again moved away from Test cricket, giving more weight to his IPL commitments. This time he officially retired from Test cricket. Subsequent attempts by the authorities to woo him into Test cricket during the just concluded Australian series became a futile exercise. Yet, the selectors have retained him in Category One. Surprisingly, Thilan Samaraweera, about whom chief selector Duleep Mendis said they no have long-term plans, and who is dropped from Sri Lanka's next series against Pakistan, which in turn looks a short term reject, has also been retained in Category One.
Player contracts for 2010:
Category 1: Kumar Sangakkara, Muttiah Muralitharan, Mahela Jayawardana, Tillekaratne Dilshan, Thilan Samaraweera
Category 2: Nuwan Kulasekera
Category 3: Angelo
Mathews
Category 4: Upul Tharanga, Thilan Thushara, Rangana Hearth, Prasanna Jayawardana, Ajantha Mendis, Chamara Kapugedera, Lasith Malinga, Thilina Kandamby
Category 5: Dilhara Fernando, Chanaka Welagedera, Tharanga Paranavithana
Category 6: Suraj Randiv, Dinesh Chandimal.
It is also noteworthy that Thilina Kandamby, who was rushed to England from hibernation and then given the captaincy for one game and then dropped from the side, has been demoted from Category Four to Category Six in his current contract.
The cricketers who have done well for themselves this year are Angelo Mathews, who has jumped from Category Three to Category Two to join Nuwan Kulasekera, and the other allrounder Thisara Perera who has leapfrogged from outside to Category 5. Dinesh Chandimal languishes in Category Six with new comer Thirimanne.
However, any player who plays Test cricket and does not play the shorter versions of the game will get 60% of the stipulated stipend. A player who only indulges in the shorter versions of the game will get only 40% of the amount. The selectors will add another 72 more names to the categories outside the six main categories shortly.