Lumbini College, Colombo had a very fruitful season last year while producing a player for the Sri Lanka Under-19 team. Lumbini had a set of good campaigners last year but this year with a fresh looking squad their prime aim is to survive and give the inexperienced youngsters the much needed exposure.
The side only has four senior players with skipper Damith Priyadharshana being the leading player. In his captaincy year Priyadharshana will play in his fifth and final first XI season while the rest of the squad makes up with eight Under-17 players and four Under-15 players.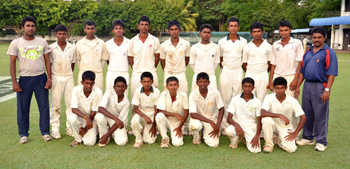 Lumbini Vidyalaya,Colombo
The Division I side is dominated mainly by all-rounders with many of them being spinners. The skipper himself is a leading batsman and a fast bowler in addition to another pacie. Lumbini is equipped with turners, five off-spinners and three leg-spinners but lack of experience will be their lacking. They won their first game at a traditional game last week but in the next 15 games Lumbini will meet much stronger opponents. "Last year we won eight games and finished as the third best team all-island. We know that it is not going to be that easy this time but our aim is to win more games than last year," stated Priyadharshana.
Lumbini is coached by Dinesh Weerasinghe for the third consecutive year. He earlier coached the side for 11 years in his first tenure as the first coach of the school and guided to an overall 21 All-Island finals at different age groups. Weerasinghe was realistic in rating his team as naïveté but was optimistic that these youngsters have the grit sustain in the top level.
"We don't have big names this year and the side has many youngsters. My target as the coach is not aimed at this season. This same team will lose two players after this year and a player in the following year, which means if the exposure is given in the top grade they can become top contenders. The biggest stake will be surviving this year. It doesn't mean that our players are weak. There's only one batsman where we can reply on and others are average but good in technique. What I expect from the boys this season is to get maximum exposure and positive cricket," said Weerasinghe.
Lumbini cricket squad: Damith Priyadharshana (Capt), Pradeep Wasantha, Tharushan Gayantha, Janith Dias, Chamara Nishantha, Mohamed Akram, Kusal Sanjaya, Thiwanka Ranasinghe, Thushan Ranasinghe, Jammika Dharana, Shehan Sashika, Hashan Hirantha, Kevin Krishan, Eranda Madushan, Nadeeshan Senadheera, Rafhan Mannan, Dinesh Weerasinghe (Coach), Pradeep Nishantha (Asst. Coach) (Pix by Amila Probodha)