Siri Piyarathana Vidyalaya, Padukka is a cricket team that been long waiting in Schools All-Island Division II segment. Last year they were impressive with four wins in 14 matches but this year will be a tougher season for them. This year's cricket squad of Siri Piyarathana has 15 players but only three of them are stocked with experience.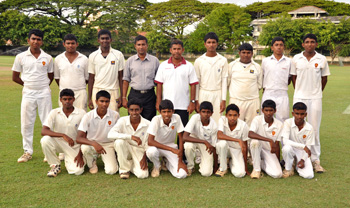 Padukka Siripiyaratana College
The key figure of the side will be skipper Manuwan Liyanage who is 18-years-old but is well experienced playing in his seventh year with the first XI team. Apart from Liyanage only two other players have the experience in playing cricket at top school level. Among them are all-rounders Ashen Ruwanga and Sandun Madushanka. The rest of the players are those who are representing the Under-15 cricket team.
The Siri Piyarathana side has an average batting line up inclusive of seven all-rounders. Spacing out from their inexperienced batting line up, their main armory will be their fast bowlers. The team had its better days during the 2005/06 cricket season when they won the Division II championship but they were destined to remain in the league for some years.
"We won the promotion but other schools grabbed our players soon after the triumphant season. This put us in further trouble and we remained in the same division with a depleted team. Last year the status improved but this season it's again all about remaining in the league for another year," D.P. Gamalathge the side's coach of 26 years stated.
Last week Siri Piyarathana played their first match of the season in a traditional game against a top division team but had to experience a heavy defeat despite skipper Liyanage stroking a century. According to the coach the game depicted many points that needed addressing as well as the side's positives as they are set to play 13 more games.
"We maybe playing in the lower division but we have over six traditional games against Division I teams. I wanted to see how the players adapt themselves to the pitch as we get to play matting wickets in much of the games. Though we lost it was a good show by the players and it indicates that we can go for at least eight wins and see ourselves through to the top division maybe next year or the following. The same team will remain for next year and my aim is to give the youngsters much exposure so they will be ready for the future," the coach added. - NA Siri Piyaratana cricket squad: Manuwan Liyanage (Capt), Sandun Madushanka, Ashen Ruwanga, Vishwa Madhawa, Dilshan Madushanka, Shanaka Sampath, Yasintha Randunu, Radheesh Kalpa, Mihiran Kanishka, Salitha Madushanka, Lahiru Jayamal, Prasad Kumara, Sahan Sudaraka, Tharindu Jayaratne, Eranga Harsha, D.P. Gamalathge (Coach), Nishantha Ubeysinghe (M-I-C), (Pix by Amila Prabodha).