Q: Asian Institute of Technology (AIT) has been a leading international university in the region. Why did AIT choose to offer a Professional Masters degree in Banking and Finance to practising managers?
A: AIT is a leading international institution in the region with a strong development focus. AIT is committed to developing professionals for the development of different countries in the region. In the last few years there have been increasing requests to AIT for launching a programme that develops bankers. This is the main reason behind the design and offer of the Professional Masters in Banking and Finance (PMBF)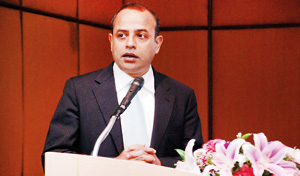 Dr. Sundar Venkatesh, Coordinator of PMBF
2. What will students achieve on completing the PMBF?
Our target group is practising bankers. Our experience is that many have not had the opportunity to acquire a formal qualification in banking and finance. On completion of the PMBF, we expect that participants will develop a breadth of vision that covers global practices. We also expect that they will have a strong grasp of important tools and techniques that practicing bankers need. Broadly, the programme will provide a structure to the tacit knowledge that our participants would have based on their experience.
On another note, participants will sharpen their inter-cultural relational skills from living and working in a campus that hosts students from more than 40 nationalities.
3. How would the employers of the participants benefit?
Having a pool of officers and managers with a breadth of knowledge and skills and experience of living and working in an international environment will be a major source of strength for the employers' plans to grow and expand their business.
4. What are the further career and education prospects available to those who complete their PMBF?
Participants will be the best judges of how to leverage on their PMBF degrees. The rigorous selection process followed by AIT and the tough academic standards that participants would have to meet in order to graduate will be testimony to the quality of the graduates. Employers can safely mark these graduates for career progression. Academically, PMBF graduates are eligible to apply for AIT's Phd programmes.
5. Why did AIT choose University of Applied Sciences Northwest (UNW) Switzerland as its partner for offering this degree?
UNW has faculty with experience of teaching participants in this region. Being a leading state accredited university in Switzerland, UNW also has access to practicing bankers and consultants who are part of their faculty pool. Switzerland has been traditionally known for its leadership in the banking industry. Having a partnership with UNW will enable AIT to offer interested participants an opportunity to follow courses in the UNW campus.
6. What are the facilities available in AIT for PMBF participants?
The website of AIT provides a good guide of the facilities. We have found that our participants benefit from married students' housing, international standard schooling for children, sports facilities including swimming pool, golf course and tennis courts, a variety of restaurants and a very green and clean campus. Most participants in AIT programme recall, above all else, the experience of living in a campus with students from over 40 countries.