With Edexcel London examinations being offered in Sri Lanka for over 35 years together with British Council and over 180 international and private schools teaching the Edexcel curricula, several Sri Lankan students have excelled and been ranked among the top ten in the world. The schools number 95% of the total number of schools offering UK qualifications and the world's highest marks attained by the students repeatedly each year, reflects positively on the quality and comprehensiveness of the curricular imparted in Sri Lanka.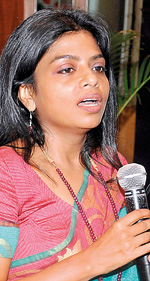 Ms. Premila Paulraj Territory Manager - India Subcontinent for Edexcel International
Edexcel is regulated by Ofqual, which qualifications are offered at both government funded and private independent schools in the UK and globally. Being the most sought after British academic and vocational qualifications in Sri Lanka, Edexcel students have gained entry into top universities in the UK, USA and Australia. Further, Edexcel draws expertise from a myriad universities that are ranked among the best in the UK, which naturally permeates to better quality more holistic standards.
Apart from the International GCSE, GCE A/L London examinations and BTEC Vocational qualifications, Edexcel has introduced comprehensive curricula and tests for primary and lower secondary students aged 8 to 14 in English, Mathematics and Science. Based on the UK National Curriculum Key Stages 1 and 2, it gives pupils a well-rounded education, preparing them for secondary and pre-university level, while giving teachers an easy-to-implement framework that monitors individual student progress.
Premila Paulraj, who heads Edexcel in the Indian Subcontinent said "Sample units will consist of a variety of activities, together with links to teaching resources and unit tests and marking schemes. Teachers can use these unit tests to compare pupil performance and identify areas for improvement or as a template for their own assessment design. Six detailed sample units will be provided per year for both English and Mathematics, in addition to the three detailed units per year for science." She adds that "The Edexcel International Primary Curriculum is designed to be flexible, so units are not mandatory - they can be taught alongside a school's existing content or chosen according to what is most appropriate for pupils. However, teachers can save valuable time by teaching Edexcel units directly from the detailed specifications."
Once the Edexcel Curriculum is followed, students sit Annual Progress tests marked internally by Edexcel certified teachers. In addition, Achievement tests are held in Grades 5/6 and 8/9 respectively. These papers are marked in the UK and certificates issued to students completing annual tests as well as Achievement tests. Elaborating further, Premila says, "Our package of Progress Tests allows the testing of pupils' knowledge and monitors progress throughout the curriculum, which is somewhat unique in the current education milieu."
Achievement tests are designed for the end of Year 6, with the International Primary Curriculum Achievement Test providing students with a tangible record of achievement, a considerable advantage when progressing to Years 11 to 14 and subsequently to to the International GCSE or equivalent. With marking conducted externally by Edexcel, these tests comply with rigorous global standards and provide certification at the end of Year 6.
All schools offering the Edexcel International Primary Curriculum will receive a curriculum framework for English, Mathematics and Science, each comprising schemes of work, outline units, free teacher training courses which grant teacher certifications for teaching this curricular.
Students following the local government curriculum too will be able to sit the annual tests and achievement tests in Maths, English and Science exposing them to an international curriculum from a very young age. The British Council will be the authorised test centre for independent candidates who wish to sit these tests.
"Edexcel vocational qualifications are also being offered in schools alongside academic studies in order that students are given options of study avenues that will help them in gearing for their future careers," says Premila.
"These qualifications form a diverse plethora of both conventional and unusual but lucrative career options and include sport, art and design, travel and tourism and photography.
Students are tested on assignments, with scheduling initiated to avoid conflict with academic examinations. Another advantage is that the results of vocational qualifications are equivalent to academic grades and could be produced as a combination to gain entry to universities." Edexcel is the UK's largest qualification awarding body, providing academic and vocational qualifications to more than 25,000 tuition providers in over 100 countries worldwide. In the UK, Edexcel offers qualifications and testing in more than 24,000 schools, 450 further education colleges, over 80 higher education institutions, 600 public and private sector employers and increasingly, e-learning providers.
As part of Pearson, the international media and education company, Edexcel has made significant investment in technology to modernise the examination system.
The company leads the way in e-learning and is spearheading online marking, administration and onscreen testing for key and basic skills qualifications, designing courses, assessing, examining, controlling and certifying achievement. The offered qualifications include A Levels, GCSEs, GNVQs, Key and Basic Skills, and the vocational BTEC suite that provides progression to Higher National Diplomas and customised qualifications for employers, in addition to a range of Foundation degrees.
Ms. Premila Paulraj Territory Manager - India Subcontinent for Edexcel International