Aspirations Education certainly feels happy and proud to announce that the University of New South Wales, one of Australia's leading research and teaching universities in Australia appointing them as a Representative of the University.
UNSW has been portrayed as one of the dynamics of Australian higher education offering and intense rich tertiary experience. The university has a proud tradition of excellence in learning and teaching having been regularly ranked as one of the top university in Australia and being a destination of choice for students with the highest potential.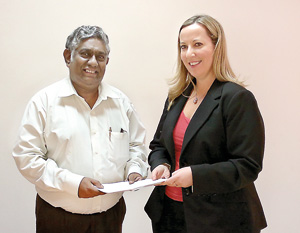 Ms. Allison Jenkins - Associate Director UNSW handing over the Agreement to MR. Ajith Abeyasekera - Chairman Aspirations Education
UNSW is a founding member of the exalted Group of Eight research intensive universities in Australia and a member of the Universities 21 international association. Having established in 1949, UNSW has expanded speedily and now has over 50,000 students, including more than 14,000 international students from over 130 different countries including many students from Sri Lanka. The University offers more than 300 undergraduate and 600 postgraduate programs, and has developed an extensive network of alumni chapters throughout Asia.
With respect to the ranking of the University, it is 46th worldwide based on the 2010 QS World University Rankings, one of five Australian institutions to make the top 50. The annual rankings are based on Academic and Employer surveys, Staff-Student Ratios, Research Citations and the Proportion of International Staff and Students.
The university has 3 campuses where students would study. Kensington and Paddington campuses are in Sydney while Canberra campus is in the capital of Australia, Canberra. Reason for students all over the world to select UNSW as a place to pursue their tertiary studies is due to the dynamic learning environment available at UNSW across only nine faculties compared to double the number of faculties in other major universities in Australia.
Faculty of Arts & Social Sciences - Offers almost 15 single and combined degrees in a variety of disciplines ranging from Arts, Education, Media, Music, Social Science and Social Work, Public Relations and Advertising. The Faculty is one of Australia's leading humanities faculties with top recognition for teaching and learning.
Australian School of Business is Australia's leading business school and an inspiration of business education and research in the Asia-Pacific region. While the faculty offers both undergraduate and postgraduate programmes connected with Commerce, Economics, International Systems, Law and Taxation it equip its students with for every type of business career from investment banker, accountant and business analyst to marketing executive , human resource manager and information systems developer.
Degree options available at the UNSW's Built Environment faculty are of comprehensive range and have a reputation for academic excellence and recognized professionally, nationally and internationally. The programmes and courses that could be selected are Architectural Computing and Studies, Construction Management and Property, Interior Design and Landscape Architecture and Planning.
COFA Center of Fine Arts at UNSW is Australia's foremost art, design and media institution. COFA offers programmes in Fine Arts, Design, Art and Design Education, art History and Theory and Digital Media.
Established in 1949, the Faculty of Engineering is the major centre for engineering studies and research in Australia. Whilst being the largest engineering faculty in Australia, it is equipped with wide-ranging, well-equipped research laboratories and computing facilities. The faculty offers a wide range of conventional 4 year engineering programmes including Aerospace, Geoinformation Systems, Naval Architecture, Petroleum, Photonics, Photovoltaics and Solar Energy and Renewable Energy which are specialized engineering programmes not found in many other top end universities in Australia.
Bachelor of Law at UNSW is usually combined with non law-disciplines such as Art, Commerce, Economics, Engineering, Jurisprudence, Media or Science. The durations vary from 5 to 6 years and the graduates are in high demand from employers in all spheres including legal, government, management, consulting, corporate and financial.
UNSW is one of the few leading universities in Australia that offers the 6 year Bachelor of Medicine/Bachelor of Surgery (MBBS) degree and the faculty also offers the 4 year Bachelor of Exercise Physiology. With only the February entry available each year for MBBS, students with excellent A/L and IB results could apply before end October 2011and there are two types of applications to be sent.
A) Medicine Application Form
B) Application via UNSW Admissions.
Aspirations can assist students who are interested to apply to UNSW- MBBS programme.
Selection is through a Telephone Interview as well but there are no written tests.
The Faculty of Science at UNSW is a motivating force of research within the University in that the faculty receives considerable level of research funding from the Australian Research Council - ARC. The degree courses are offered in Aviation, Biotechnology, Nanotechnology, Medicinal Chemistry and Medical Sciences and is also equipped with many combined degrees where science is connected with engineering, Arts, Commerce, Law, Education and Social Sciences.
The University conducts its own Foundation Study Programme for students who do not have direct entry requirements to enter to Undergraduate Programmes. Besides at the Institute of Languages the University offers courses that provide first-class preparation for study at UNSW through its English for Academic Purposes Programmes. For International Students the University provides a variety of facilities connected with accommodation, student organizations that provides a range of recreational and cultural activities as well as providing social support to students away from their family and friends. In order to make your stay in Australia a happy and healthy one, the University offers an array of health, fitness, sporting and recreational facilities and programmes.
For more information contact Aspirations Education at, 267/20, Samagi Mawatha, Nawala Road, Nawala. Tel. 011280880 - 1 Hotline 0777539888 or log on to www.aspirtions.edu.lk